Russia's War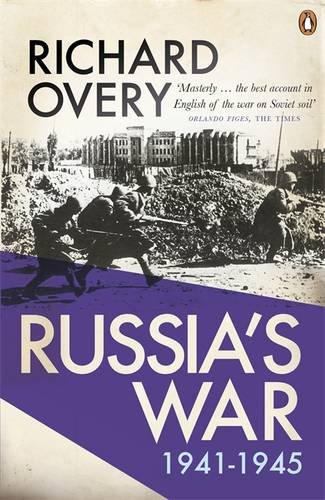 RUSSIA'S WAR is the epic account of the greatest military encounter in human history. In a vivid, often shocking narrative, Richard Overy describes the astounding events of 1941-45 in which the Soviet Union, after initial catastrophes, destroyed Hitler's Third Reich and shaped European history for the next half Century.
As German armies stampeded through the Soviet Union in the summer of 1941, Nazi politicians and Western statesmen alike predicted the former U.S.S.R's collapse. In Russia's War, a balanced and acute portrayal of a combat theatre that claimed more than 40 million Soviet lives, Richard Overy tells the story of how Stalin and his commanders held off defeat and engineered the most significant military achievement of the Second World War: the destruction of the Wehrmacht.
Russia's War is far from a tale of triumph, as the Russian capacity for resourceful creativity, desperate courage and raw endurance was matched, if not exceeded, by the brutal oppression of the Soviet system. Overy argues, however, that victory was the result of precisely this uneasy combination. Drawing from extensive archival sources made available in the wake of Glasnost, he revises both our conception of the Red Army as a horde that overwhelmed the Germans and the accepted wisdom that Hitler's defeat was the result of strategic bungling and a logistical overreach of the Nazi forces. Perhaps his most poignant contribution is the discussion of the crisis that recent disclosures have provoked in the Russian understanding of the conflict. What was once viewed as the "Great Patriotic War" has become "a crucible of miserable and incomprehensible revelations." In spite of these confusions, Russia's War commences to find significance in a contest that repeatedly disquiets and humbles the historical imagination. --James Highfill --This text refers to an out of print or unavailable edition of this title.