A History of Warfare in 100 Battles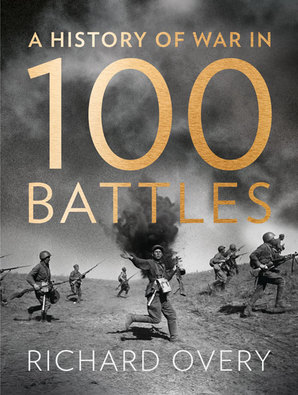 A history of warfare distilled into 100 momentous battles – epic moments that have shaped our world.
From the earliest recorded skirmishes of the ancient world to the computerized conflicts of today, renowned military historian Richard Overy dramatically brings to life the sights and sounds of the most significant battles in world history: the flash of steel, the thunder of guns, the shrieks of the dying, and the strange, eerie calm that descends on the bloodstained battlefield when the fighting is done.
Each of the 100 battles featured in the book – from the Fall of Troy to Operation Desert Storm – shows how the nature of armed combat has changed as technology, strategy and tactics have evolved over time.
Yet, equally strikingly, the outcome of almost all the battles across the ages have been decided by the same mix of leadership, courage, deception, innovation and, time and again, a moment of good fortune. Rather than arranged chronologically, the battles are organized under these different themes to reveal surprising connections across centuries and cultures.
In Richard Overy's own words, 'Battle is not a game to plug into a computer but a piece of living history: messy, bloody and real.' Whatever else has changed over the last few millennia, that much remains the same.