Gold Digger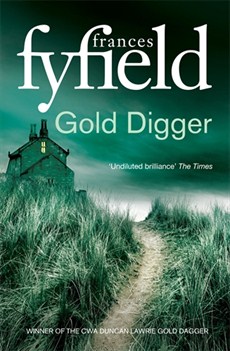 A haunting tale of psychological suspense from the CWA Gold Dagger award-winner
The warmth of him, the glorious warmth, was fading by the minute.
In a huge old school house by the sea, full of precious paintings, Thomas Porteous is dying. His much younger wife Di holds him and mourns. She knows that soon, despite her being his sole inheritor, Thomas's relatives will descend on the collection that was the passion of both of their lives.
And descend they do. The two needy daughters, who were poisoned against their father by their defecting mother, are now poison themselves. The family regard Thomas's wealth as theirs by right, with the exception of young Patrick, who adored his grandfather and is torn between his parents and Di, the interloper.
The family know Di's weaknesses, and she has to learn theirs. After all, she met Thomas when she came to his house to rob him. With the help of an unlikely collection of loners and eccentrics, she sets a trap to hoist the family members on their own greed. And on the night they are lured to the house, Di will be ready.
Or will she?
This excellent mystery, complete with crimes, clues and red herrings, is also a novel of character and a very good one too — Literary Review
Fyfield specialises in sympathetic portraits of social misfits and the misunderstood . . . This is a subtle but razor-sharp dissection of a family at war — Guardian
A novel of character in which fully realised protagonists are developed with a skill approaching that of such writers as Iris Murdoch...Her understanding of the way human beings behave when jealousy and resentment power their actions remains as insightful as ever — Independent