Russian Roulette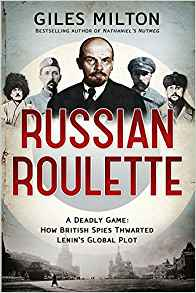 Russian Roulette tells the story of the first global plot and the British spies who were sent to thwart it.
The Soviet plot was breathtaking in scale: its aim was to destroy British rule in India, as a precursor to toppling the democracies of the West. It was to bring together two deadly forces - Soviet revolutionaries and Islamic jihadis - to form a highly toxic threat.
Unbeknownst to Moscow, a small band of British spies had been secretly smuggled into Russia in the aftermath of the 1917 revolution. They were an unlikely group of men: self taught and highly educated. Their boss was endearingly eccentric. Mansfield Cumming was a monocled, one-legged sea captain with a passion for secret inks and homemade explosives. Cumming gave his agents free range to do whatever they wanted once they were inside Soviet Russia: 'Just don't get yourself killed,' was his only injunction.
Over the course of the next three years, his spies would be involved in murder, deception and duplicity on a grand scale. Living in disguise - and constantly switching identities - they would infiltrate Soviet commissariats, the Red Army and Cheka (secret police), and would come within a whisker of assassinating Lenin.
The pinnacle of their achievement was to unmask Lenin's plan for global revolution. It would reach its denouement in the Central Asian city of Tashkent. Lenin's global plot would be spectacularly unravelled.
Britain's spies proved brilliantly successful in saving the Western world from catastrophe. They found a wholly new way in which to deal with enemies, one that relied on espionage and dirty tricks rather than warfare. As such, they were the unsung founders of today's modern, highly professional secret services and, in their way, inspiration for fictional heroes to follow, from James Bond to Jason Bourne.
Russian Roulette draws on little known records from India Political Intelligence that have only recently been released into the public domain, including rare duplicated copies of reports from MI6's closed archives.