Big Chief Elizabeth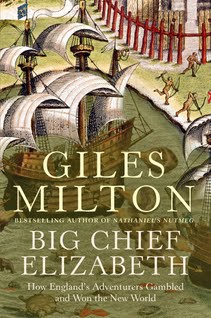 In April 1586, Queen Elizabeth I acquired a new and exotic title. A tribe of North American Indians had made her their weroanza - 'big chief'.
The news was received with great joy, both by the Queen and her favourite, Sir Walter Ralegh. His first American expedition had brought back a captive, Manteo, whose tattooed face had enthralled Elizabethan London. Now Manteo was returned to his homeland as Lord and Governor. Ralegh's gamble would result in the first English settlement in the New World, but it would also lead to a riddle whose solution lay hidden in the forests of Virginia.
A tale of heroism and mystery, Big Chief Elizabeth is illuminated by first-hand accounts to reveal a remarkable and long-forgotten story.