According to Arnold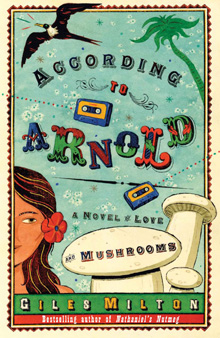 A madcap novel of humourous inventiveness from the author of Nathaniel's Nutmeg
Meet Arnold Trevellyan
-
charismatic, exuberant and somewhat strange. His love of mushrooms is matched only by a passion for Flora, his wife of twelve years.One day, while searching for mushrooms, Arnold makes a wondrous discovery that will turn his world upside down.
He abandons Flora and heads to the South Pacific where he finds himself marrying the queen of the remote tropical island.
But all is not as it seems in Arnold's idyllic realm. In a series of cassettes to his oldest friend, he reveals that he is trapped in an international conspiracy in which mushrooms hold the key to life or death.
According to Arnold is for all women who think they know their partner and all men who think the grass is greener elsewhere.