Searching for Schindler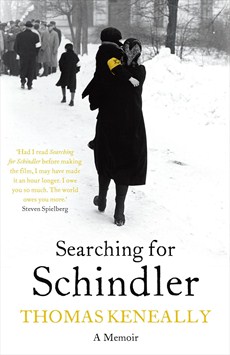 In 1980 Thomas Keneally walked into a shop in Beverley Hills to buy a briefcase, an impulse that was to change his life. For the owner, Leopold Pfefferberg, had a story he'd been trying to interest writers and Hollywood in for years. It was the story of Oskar Schindler.
In SEARCHING FOR SCHINDLER, Keneally describes how he went on to discover the full, extraordinary tale of the Aryan who risked his life to save hundreds of Jews in Nazi-occupied Poland, interviewing many of the survivors around the world. Here, for the first time, he fills in what happened to them, as well as to Schindler and his wife, in the decades after the war. And he gives a fascinating account of how his novel SCHINDLER'S ARK was published, its controversial winning of the Booker Prize, and the long road to its becoming the phenomenally successful film Schindler's List.
Filled with entertaining anecdotes about the many people involved, from Steven Spielberg and Liam Neeson to Keneally