Satantango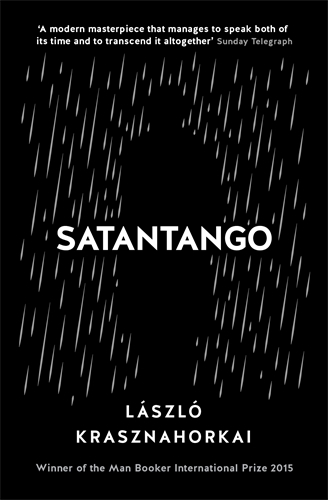 Translated into English by George Szirtes.
Winner of the Best Translated Book Award 2013
In the darkening embers of a Communist utopia, life in a desolate Hungarian town has come to a virtual standstill. Flies buzz, spiders weave, water drips and animals root desultorily in the barnyard of a collective farm. But when the charismatic Irimias - long-thought dead - returns to the commune, the villagers fall under his spell. The Devil has arrived in their midst.
Irimias will divide and rule: his arrival heralds the beginning of a period of violence and greed for the villagers as he sets about swindling them out of a fortune that might allow them to escape the emptiness and futility of their existence. He soon attains a messianic aura as he plays on the fears of the townsfolk and a series of increasingly brutal events unfold.
Satantango follows the villagers as they are exploited and taken in by Irimias; as they drink and stumble their way toward the gradual realization of their mistake and ultimate demise. In its measured prose and long, Tolstoyan sentences, Satantango is nothing short of a literary masterpiece; a formal meditation on death and avarice, human fallibility and faith.
Territories:
UK: Atlantic Books Egypt: Dar Altanweer Taiwan: Unitas China: Yilin Press Croatia: OceanMore LTD Denmark: Forlaget Sisyfos Estonia: Margus Lattick Finland: Kustannusosakeyhtiö Teos France: Editions Gallimard Greece: Polis Israel: Babel Italy: Bompiani Korea: Alma India: Sahita Pravarthaka Norway: Cappelen Damm AS Brazil: Editora 34 Portugal: Antígona Russia: Corpus Books Serbia & Montenegro: Dereta Slovakia: Oz Brak Spain: Quaderns Crema Sweden: Norstedts Forlagsgrupp AB Vietnam: Nha Nam