The Melancholy of Resistance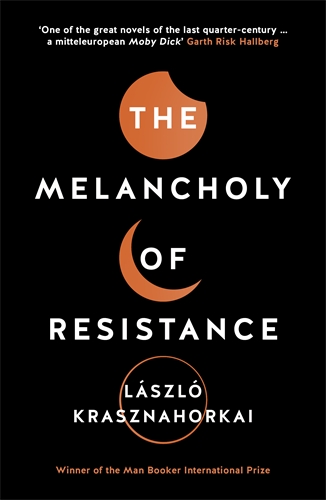 Translated into English by George Szirtes
Winner of the 2015 Man Booker International Prize
The Melancholy of Resistance, László Krasznahorkai's magisterial, surreal novel, depicts a chain of mysterious events in a small Hungarian town.
A circus, promising to display the stuffed body of the largest whale in the world, arrives in the dead of winter, prompting bizarre rumours. Word spreads that the circus folk have a sinister purpose in mind, and the frightened citizens cling to any manifestation of order they can find - music, cosmology, fascism.
The novel's characters are unforgettable: the evil Mrs. Eszter, plotting her takeover of the town; her weakling husband; and Valuska, our hapless hero with his head in the clouds, who is the tender centre of the book, the only pure and noble soul to be found.
Compact, powerful and intense, The Melancholy of Resistance, as its enormously gifted translator George Szirtes puts it, 'is a slow lava flow of narrative, a vast black river of type.' And yet, miraculously, the novel, in the words of Guardian, 'lifts the reader along in lunar leaps and bounds.'
'The universality of Krasznahorkai's vision rivals that of Gogol's Dead Souls and far surpasses all the lesser concerns of contemporary writing.' -- W.G. Sebald

'László Krasznahorkai writes prose of breathtaking energy and beauty. He manages to combine our most earthly concerns with large cosmic questions. His tones and textures are filled with both risk and certainty. He has elevated the novel form and is to be ranked among the great European novelists' -- Colm Toibin

'As the worthy winner of this year's Man Booker International prize, Krasznahorkai throws down a challenge: raise your game or get your coat... the intensity of his commitment to the art of fiction is indisputable...exhilarating, even euphoric.' -- Hari Kunzru ― The Guardian
Territories:
Sweden: Norstedts; Denmark: Forgalet Sisyfos; Macedonia: Tri; The Netherlands: Wereldbibliotheek; Greece: Polis; China: Zhejiang; France: Gallimard; UK & BC: Tuskar Rock; Korea: Alma; Spain: Quaderns Crema; Italy: Bompiani; Arabic: Dar Al Tanweer; Slovakia: Oz Brak; Russia: Corpus Books; Albania: Aleph Klub; Finland: Kustannusosakeyhtio Toes; Turkey: Can Yayinlari.