Till Time's Last Sand: A History of the Bank of England 1694-2013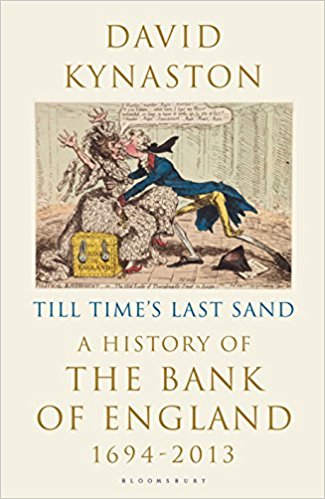 'Not an ordinary bank, but a great engine of state,' Adam Smith declared about the Bank of England as long ago as 1776. The Bank is now over 320 years old, and for the vast majority of that time it has been central in British history, with an increasingly high profile in recent years. There has never been a modern, authoritative and accessible single-volume history - David Kynaston's will be the first, and has been written with the Bank's cooperation and with complete access to its archives.
His approach, as in his wonderful and bestselling Tales of a New Jerusalem series, is essentially chronological, with a narrative that does full justice to the leading episodes, characters and themes. It is a history that gives proper treatment to the important debates over the years about the Bank's purpose and modes of operation, while also drawing on a huge amount of original research.
From the founding of the bank in 1694, in the midst of the English financial revolution, through wars and financial crises, and ending in 2013, with Mark Carney succeeding Mervyn King as governor. covering such aspects as monetary policy, exchange rate policy, relations with government, relations with the City, relations with other central banks, and much else, but Kynaston's history also gives the reader a real sense of the often distinctive 'domestic' side of the Bank, evoking what sort of place it was.
The Bank is a fascinating subject of obvious importance; yet to most people its history is largely unknown. The Bank of England offers an authoritative, insightful yet accessible portrait of one of our key national institutions.
Territories:
Languages: English