Arlott, Swanton and the Soul of English Cricket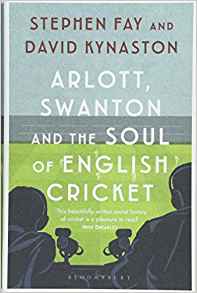 A fascinating account of how two BBC broadcasters battled for the soul of English cricket during a time of great social change
For more than a quarter of a century after the Second World War, as the BBC tightened its grip on the national consciousness, two of the most famous English voices were commentators on games of cricket. John Arlott and E.W. ('Jim') Swanton transformed the broadcasting of the nation's summer game into a national institution. For any cricket follower in his fifties or older, just the mention of their names immediately evokes a flood of memories.
Swanton was born into a middle-class family and privately educated; Arlott was the son of a working-class council employee, educated at state schools until he left at the age of sixteen. Because of their strong personalities and distinctive voices - Swanton's crisp and upper-class, Arlott's with its Hampshire burr - each had a loyal following in the post-war years, when England's class system had a slot for almost everyone. Within a few minutes of the start of a conversation, it would be possible to identify the speaker as an Arlott or a Swanton man.
Arlott and Swanton never grew to like each other, but both typified the contrasting aspects of post-war Britain and the way both it and the game they loved was to change. As England moved from a class-based to a more egalitarian society, nothing stayed the same - including professional cricket. Wise, lively and filled with rich social and sporting history, Arlott, Swanton and the Soul of English Cricket shows how these two very different men battled to save the soul of the game as it entered a new era.