Things Can Only Get Better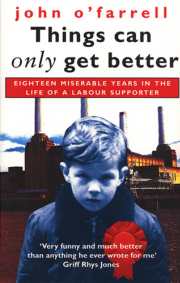 Like bubonic plague and stone cladding, no-one took Margaret Thatcher seriously until it was too late. Her first act as leader was to appear before the cameras and do a V for Victory sign the wrong way round. She was smiling and telling the British people to f*** off at the same time. It was something we would have to get used to.
Things Can Only Get Better is the personal account of a Labour supporter who survived eighteen miserable years of Conservative government. It is the heartbreaking and hilarious confessions of someone who had been actively involved in helping the Labour party lose elections at every level.
Along the way he slowly came to realize that Michael Foot would never be prime minister, that vegetable quiche was not as tasty as chicken tikka masala and that the nuclear arms race was never going to be stopped by face-painting alone.
'Very funny and much better than anything he ever wrote for me' - Griff Rhys Jones
'Very funny' - The Times
'Excellent...Whatever your politics Things Can Only Get Better will make you laugh out loud' - Angus Deayton