Isle of Wight to get Ceefax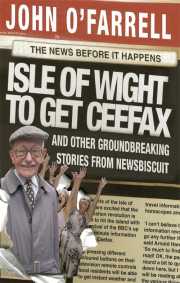 John O'Farrell presents over two hundred almost-true news stories from Britain's leading satirical site, including Charity Launches Guide Dogs for the Late and Teenagers on Work Experience Banned from Air Traffic Control.
Remember where you were when you heard that the fifty-year rule was abolished fifty years ago? Or the news that dolphins stop smiling the moment our backs are turned? It's all in this handy book-shaped collection which brings together Britain's most exciting new comedy writers and the talents behind such shows as Have I Got News For You, Spitting Image and Lead Balloon.
From Sainsbury's Launch New Gullible Range to Ryanair to Charge for Emotional Baggage, this hilarious journey through the year represents the very best in topical comedy from the website that the New York Times declared was Britain's answer to The Onion.