The Best A Man Can Get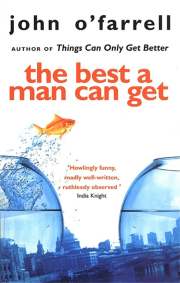 Michael Adams shares a flat with three other men in their late twenties. Days are spent lying in bed, playing computer games and occasionally doing a bit of work. And then, when he feels like it, he crosses the river and goes back to his unsuspecting wife and children.
For Michael is living a double life - he escapes from the exhausting misery of babies by telling his wife he has to work through the night or travel up north. And while she is valiantly coping on her own, he is just a few miles away in a secret flat, doing all the things that most men with small children can only dream about. He thinks he can have it all, until is deception is inevitably exposed...
The Best a Man Can Get is written with the hilarious eye for detail that sent John O'Farrell's first book, Things Can Only Get Better, to the top of the bestseller lists. It is a darkly comic confessional that is at once compelling, revealing and very, very funny.