Final Solution: The Fate of the Jews 1933-1949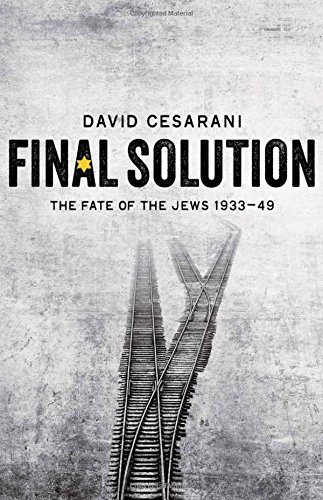 The Holocaust has never been so widely commemorated, but our understanding of the accepted narrative has rarely, if ever, been questioned.
David Cesarani's sweeping reappraisal challenges accepted explanations for the anti-Jewish politics of Nazi Germany and the inevitability of the 'Final Solution'. The persecution of the Jews was not always the Nazis' central preoccupation, nor was it an inevitable process. Cesarani also reveals that in German-occupied countries it unfolded erratically, often due to local initiatives. Ghettos were improvised while the mass shooting of Jews during the invasion of Russia owed as much to the security situation as to anti-semitism.
In this new interpretation, war is critical to the Jewish fate. Military failure denied the Germans opportunities to expel Jews into a distant territory and created a crisis of resources that led to starvation of the ghettos and intensified anti-Jewish measures. It was global war that eventually triggered genocide in Europe.
Cesarani disputes the iconic role of railways, deportation trains and even Auschwitz, and reveals that plunder was more a cause of anti-Jewish feeling than a consequence of it. Using diaries and reports written in ghettos and camps, he exposes the extent of sexual violence and abuse of Jewish women by the Germans, their collaborators and, shockingly, by Jews themselves. But Cesarani also reveals the courage and ingenuity of those who struggled to evade capture and fought back wherever they could. And unlike previous histories, he follows the Jews' journey to the 'Displaced Persons' camps; camps which have so often been merely a footnote in the story but where Jews languished behind barbed wire for years after 'liberation'.
This moving and dramatic account captures the fate of the Jews, the horror and the heroism, in their own words. Resting on decades of scholarship, it is compelling, authoritative, and profoundly disturbing.