Charles At 50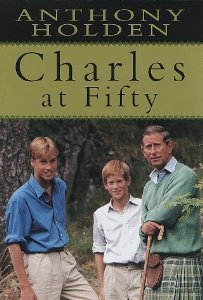 Charles, Prince of Wales, turns fifty on November 14, 1998. Since the tragic death of Princess Diana, his public and private lives have been in more turmoil than ever. Britain's leading authority on the prince is Anthony Holden, who has written two previous biographies of Charles. The first, published when Charles was thirty, was a number one bestseller on both sides of the Atlantic; the second, published ten years later, caused huge public controversy for suggesting--four years before Andrew Morton's book--that the Waleses' marriage was in trouble.
Now Holden continues this unique series with a third, even more dramatic portrait of the ever-changing prince. Holden's first book was a portrait of a lonely, confused bachelor still living at home with his parents; his second was about a driven but still troubled man, the father of two sons, trapped in an unhappy marriage and losing public goodwill. His third book presents a divorced prince, now a widower, facing a stark choice: his children, the love of his life or the throne--or, by trying to have all three, playing a dangerous long-term game that could threaten the future of the monarchy itself.
The tragic triangular love story of Charles, Diana and Camilla has never before been told in such compelling detail. Once close to Charles, and later to Diana, Holden is uniquely placed to present both sides of their marital argument. Offering unparalleled insights into the dramatic events of the last decade, Holden traces the seeds of Charles's adult character in his childhood and youth but does not flinch from criticism in recounting how Charles reached his current dilemma as a single parent in love with a woman he may never be able to marry. Though Diana's death has created a wave of public sympathy for him--which may yet see him a popular king--can the private Charles ever find happiness without the help and support of the woman he loves?
Territories:
English: Random House USA English: Transworld Publishers Ltd.