The Boy Who Could Do What He Liked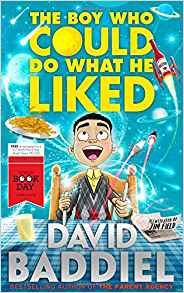 Written especially for WBD 2016, this is a fabulously entertaining and touching novella from David Baddiel, author of the bestselling The Parent Agency and The Person Controller.
Illustrated by the hugely talented Jim Field, winner of the Roald Dahl Funny Prize.
Alfie has a routine. To be honest he has a lot of routines.
But then one day Alfie's babysitter is unavailable, and Alfie's parents get Mrs Stokes instead. Mrs Stokes doesn't do routines. Instead, she just tells Alfie to do what he likes. And that's when things start to go weird.
Does everything get hilariously out of control? Yes.
Does Alfie learns a valuable lesson? Nah. This isn't that kind of story…
Territories:
World: Harper Collins