David Baddiel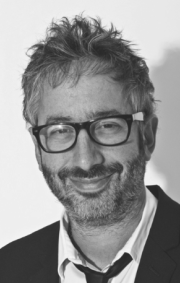 ©
David Baddiel graduated from Cambridge University with a double first in English. He went on to forge a successful career as a comedian, first on the stand-up circuit in London, and then as part of the team behind the popular BBC sketch show The Mary Whitehouse Experience. In 1993 he teamed up with his Mary Whitehouse partner Rob Newman, they became the first British comics to play an arena gig, at Wembley. His other shows include Fantasy Football League, Baddiel's Syndrome, and Baddiel and Skinner Unplanned. In 1996 he co-wrote and co-sung 'Three Lions', the England song for Euro '96 — the only song in the history of British pop music to go to number 1 three separate times. He created, and for the first four series hosted, the Radio 4 comedy discussion programme Heresy and in 2010 wrote the screenplay for the feature film The Infidel. He has written four novels for adults, Time for Bed (1996), Whatever Love Means (2002), The Secret Purposes (2006) and The Death of Eli Gold (2011).
David Baddiel has also published six highly successful children's books, which have sold over one million copies worldwide: The Parent Agency (2014), The Person Controller (2015), Animalcolm (2016), Birthday Boy (2017) Head Kid (2018) and The Taylor Turbochaser (2019), published by HarperCollins. He was commissioned to write The Boy Who Could Do What He Liked for 2016 World Book Day. The Parent Agency won Best Laugh Out Loud Book for 9 to 13-year-olds at the inaugural Laugh Out Loud Awards and is being adapted into a film. 
He had a book column in The Times for five years and in 2002 he was a member of the Man Booker Prize panel of judges. In 2013 he performed, to wide acclaim, his first stand-up show for fifteen years: Fame: Not the Musical; a follow-up, My Family: Not the Sitcom, premiered in 2016 and was nominated for an Olivier Award. His new show about social media, Trolls: Not the Dolls, tours the UK in 2020.
David Baddiel lives in London with his family.
Book in order of publication:
Time for Bed (1996)
Whatever Love Means (2002)
The Secret Purposes (2006)
The Death of Eli Gold (2011)
The Parent Agency (2015)
The Person Controller (2016)
Animalcolm (2016)
Birthday Boy (2018)
Head Kid (2018)
The Taylor Turbochaser (2019)