Mutton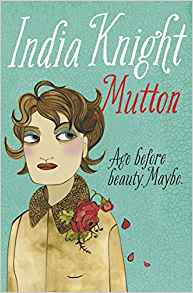 The fourth novel from India Knight, Mutton is a hilarious, heartfelt exploration of women's relationship with their looks.
What's a woman to do when she wakes up one morning and finds an enormous freak-wrinkle bisecting her forehead? When she walks past the buildings site and nothing happens? When she catches the eye of a nice young man and is rewarded with a kind, patient, for-granny smile?
Clara Hutt, 46, feels herself to be in her absolute prime. She is chipper. Her sap is rising mightily, as it happens. But then her friend Gaby comes back from California and moves in with her. Gaby is no stranger to Los Angeles's more invasive cosmetic procedures. She may be pushing 50 but she looks 35. And Clara wonders: should she follow suit? A little Botox, a little filler, a little nip, a little tuck . . . but where to stop? And is nostril-waxing ever a good idea?