In Your Prime: Older, Wiser, Happier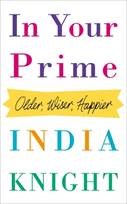 Our fifty is not our mum's fifty, let alone our granny's. We have no map or blueprint to tell us how to be. Are we supposed to be grownups now, all the time? Are we banned from leopard print?
Should we just be content in our sturdy nan-underwear, or should we be running out for botox? What about coping with teenage children, stale marriages, wavering libidos, ageing parents, health concerns, the menopause?
With In Your Prime, India Knight provides solutions to all these quandaries of modern-day middle-age.
There's advice on how to drink, how to party, how to dress, (and how to avoid mutton), tips on what cosmetics to buy and how to be happy.
Part invaluable manual, part memoir, part rallying cry for the mildly middle-aged, In Your Prime is the definitive, much-needed guide to getting older with confidence and panache.