In the Beginning Was the Sea By Tomás González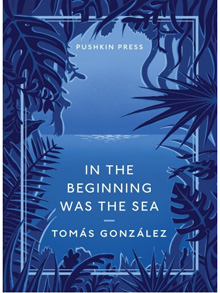 Death in paradise: sea, sex and a sinister downward spiral on a Caribbean coast
The young intellectuals J. and Elena abandon the parties, the drinking and the money of the city, and start a new life on a remote tropical coast. Among mango trees, hot sands and everlasting sunshine, they plan to live the Good Life, self-sufficient and close to nature.
But with each day come small defeats and imperceptible dramas. Gradually paradise turns into hell, as brutal weather, mounting debts, the couple's brittle relationship, and the sea itself threaten to destroy them.
Based on a true story, In the Beginning Was the Sea is a dramatic and searingly ironic account of the disastrous encounter of the imagined life with reality - a satire of hippyism, ecological fantasies, and of the very idea that man can control fate.