Darkmans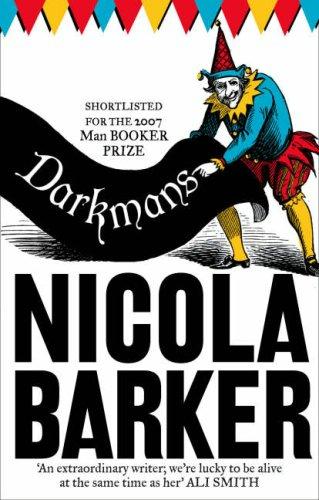 This is a rowdy, riotous tale, a tale in which the medieval past takes on a face, name, and occupation and roams around the humdrum town of Ashford, bringing chaos to the lives of those it picks on. No one is safe: not upstanding Beede and his drug-dealing son, nor teen chav Kelly who zestily finds God (much to the dismay of the Reverend responsible), or Gaffar, the tiny, amorous Kurd with an unusual fear of salad.
Darkmans is a world where language snaps and crackles like static, twitching with barely containable energy. Past and present mingle and blur, and the lines between fantasy and reality, sanity and madness are continually rubbed out and redrawn - but by whose hand? And what about the grand scheme of things - is life a coincidence or is it a pattern, plotted by all-seeing, unknown forces?
The third of Nicola Barker's visionary narratives of the Thames Gateway, Darkmans is a very modern book about very old-fashioned subjects: love and jealousy. It's also about invasion, obsession, displacement and possession, about comedy, art, prescription drugs and chiropody. Shortlisted for the Man Booker Prize 2007 and following on from Wide Open (winner Dublin IMPAC award 2000) and Behindlings it confirms Nicola Barker as one of Britain's most original, innovative and exciting literary talents.
WINNER OF THE HAWTHORNDEN PRIZE 2008
SHORTLISTED FOR THE 2007 MAN BOOKER PRIZE
'Barker is an extraordinary writer; we're lucky to be alive at the same time as her. She's one of the few people who can put the words 'novel' and 'form' together and make something we haven't caught up with yet, that's completely new. She's a glorious writer. The novel is 800 pages long but reads like a high-speed train. You come out of it with a kind of knowledge that even if you were just standing in a service station car park somewhere you'd suddenly feel the whole of British culture at your feet.' - Ali Smith
'She is a serious writer, certainly, maybe even a "serious" one, but it is difficult to think of another contemporary novelist who will so relentlessly pursue the truth and then punctuate it with a honking red nose, who will expose real pain and human complexity while at the same time squirting water in your eye (…) Barker is a great, restless novelist, and DARKMANS is a great, restless novel. At the end of 838 blinding, high-octane pages, I was bereft that there weren't 838 more' - Guardian
Territories:
English: HarperCollins Publishers