30 Days In Sydney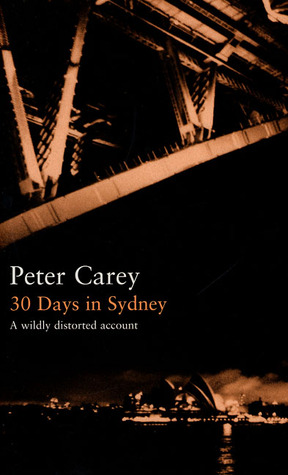 With admirable enterprise, Bloomsbury books have asked a number of top writers to describe the city they love most 30 Days in Sydney represents Peter Carey's turn with a unique take on the Aussie metropolis.
Subtitled "a wildly distorted account" it is pretty much that: an oblique, poignant, entertaining and rather candid look at the city. Using his prize-winning novelist's eye for telling detail, and the objectivity of the relative outsider (Carey has spent the last decade in New York, and he hails from Melbourne), the author shows that Sydney is not just about sun, sports, gay sex and Sydney Harbour Bridge. It's also about endangered wildlife, painful history, militant agnosticism and, above all, a wilful, dogged, brave, funny, cantankerous citizenry. As Carey trots around town we get to meet a few of these hard-bitten "diggers" their individuality and orneriness are deftly sketched.
If there is a criticism of the book it's that it's all too brief. 240 smallish pages is a diminutive canvas on which to paint a portrait of such a diversely sprawling place. One might, for instance, have wished to know more about multicultural Sydney, and perhaps a bit more about the cockatoos and koalas which yet inhabit the city's remoter reaches. But this is still an agreeable pocket companion for anyone intending a trip to the Big City Down Under.
'The writer in him gets truly hooked, and so does the reader. A book of fierce colour and shape' - The New York Times
'This is a fabulously idiosyncratic small masterpiece' - The Times
Territories:
Bloomsbury: All World Chinese: new star publishers, NEW STAR PUBLISHERS Dutch: Atlas German: Piper Verlag (Germany) Greek: Metaichmio Publications Italian: Ugo Guanda Japanese: DHC Corporation Korean: Hyohyung Portuguese: Asa Editores II, S.A. Portuguese: Editora Schwarcz (Brazil) Spanish: Ediciones 62 SA (Spain)