The Second Cut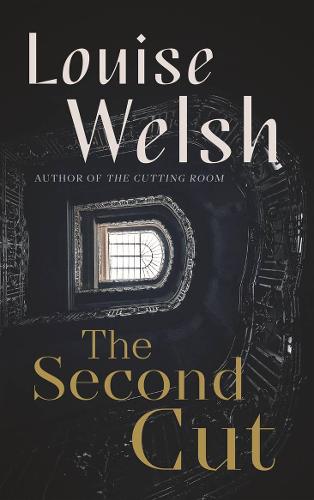 Auctioneer Rilke has been trying to stay out of trouble, keeping his life more or less respectable. Business has been slow at Bowery Auctions, so when an old friend, Jojo, gives Rilke a tip-off for a house clearance, life seems to be looking up. The next day Jojo washes up dead.

Jojo liked Grindr hook-ups and recreational drugs - is that the reason the police won't investigate? And if Rilke doesn't find out what happened to Jojo, who will?

Thrilling and atmospheric, The Second Cut delves into the dark side of twenty-first century Glasgow. Twenty years on from his appearance in The Cutting Room, Rilke is still walking a moral tightrope between good and bad, saint and sinner.
Praise for The Second Cut
The Second Cut has been selected by The Times & Sunday Times as the best CRIME BOOK OF 2022.
"Complex and very atmospheric, with plenty of sardonic humour and sharp observations about injustice, like its predecessor this is a hardboiled gem" The Guardian
"Superbly drawn and exquisitely written, the story moves at an exceptional pace: this is modern Glasgow at its most compelling with a contradictory, flawed hero who tugs at the heart strings. Do not miss it." Daily Mail
"If writing a sequel to a bona fide Scottish classic weighed heavily on Louise Welsh you'd never know. The Second Cut grips from the very opening pages. The Glasgow it portrays is seamy but humane, its cast of characters flawed but endearing. The whole thing is compelling, immersive and brimming with life. A great achievement."  Graeme McCrae Burnett
'I doubt I'll read a better book this year. Dark, funny and humane, Louise Welsh tells the stories that nobody else dares' Val Mcdermid
'One of the most enjoyable mysteries I've read this year, The Second Cut had me from the word go. Rilke's world feels rife with possibilities for dark doings – and Welsh's writing is fresh, funny, fearless and fun' Joseph Knox
'This return to the world of Rilke is a masterclass in engaging storytelling. Emotionally complex, and full of dark wit and deviant energy, this is a wonderful examination of the state of our culture today' Doug Johnstone
'If writing a sequel to a bona fide Scottish classic weighed heavily on Louise Welsh you'd never know. The Second Cut grips from the very opening pages. The Glasgow it portrays is seamy but humane, its cast of characters flawed but endearing. The whole thing is compelling, immersive and brimming with life. A great achievement' Graeme Macrae Burnet
'Plunges the reader straight into Glasgow's underbelly. This is hard-boiled Scottish crime writing at its best' Sara Sheridan
'Richly layered, gloriously carnal, bursting with patter and irresistibly seductive' Chris Brookmyre
'Twenty years is a long time to wait for a "sequel" but Louise Welsh has made the wait completely worthwhile. In Welsh's writing, Rilke's world remains recognisably queer – not sanitised, not tidied, not safe before the watershed – and all the better for it . . . (Please can the next one come a little sooner?)' Stella Duffy
'Getting another look behind the curtain at Rilke's world was a squalid thrill. Louise Welsh reclaims her crown as the queen of Glasgow's grubby glamour' Kirstin Innes
'Brilliant' Alan Parks
'I am too long in the tooth to make predictions, but I would not be averse another instalment at all.' Stuart Kelly, The Scotsman
'Rest assured, when Welsh again hits the stage with public readings forThe Second Cut friends now know not to question what she's doing there: she's introducing a city and a nation to itself.' Sunday Times Scotland
'[a] highly entertaining novel' Sunday Telegraph
'Well-wrought...The specificity and style of Welsh's prose - peppered with such fine Scottish words as 'bawface', 'coorie' and 'shoogly' - the depth of her characterisation and depiction of place, her gallows humour and her compassion all make The Second Cut a superb piece of work.' The Times
'The tone and depth of observation in The Second Cut raise it from a whodunnit into something more impressive and enduring.' The Herald