The Gigantic Beard That Was Evil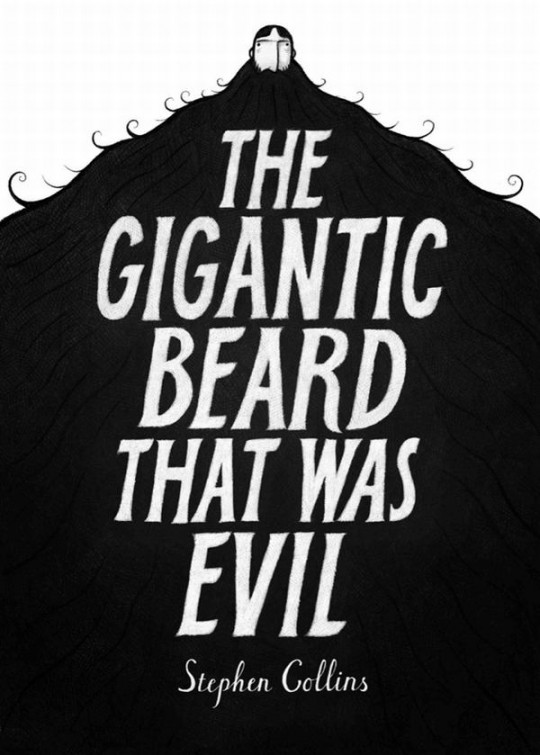 The job of the skin is to keep things in.
On the buttoned-down island of Here, all is well. By which we mean: orderly, neat, contained and, moreover, beardless.
Or at least it is until one famous day, when Dave, bald but for a single hair, finds himself assailed by a terrifying, unstoppable monster!
Where did it come from? How should the islanders deal with it? And what, most importantly, are they going to do with Dave?
The first book from a new leading light of UK comics, The Gigantic Beard That Was Evil is an off-beat fable worthy of Roald Dahl. It is about life, death and the meaning of beards.
(*We mean a gigantic beard, basically.)
Stephen Collins' amazing debut graphic novel THE GIGANTIC BEARD THAT WAS EVIL was shortlisted for the Waterstones Book of the Year 2013 and the British Comic Awards best graphic novel of the year and was chosen as one ofThe Observer Books of the Year 2013. It was adapted into a play, directed by Stephanie Kempson, at the Bristol Old Vic in early 2015.
'An amazing book. Completely original. Surreal, yet believable.' – Raymond Briggs
'A gorgeous hymn to pencil drawing (among many other things)…' – Mark Haddon
'It's part satire, part parable, part nursery rhyme and part disaster movie, and it's an utter joy to read.' – Tom Gatti, The Times
'THE GIGANTIC BEARD THAT WAS EVIL has the tone of a playful fable, from the cracked syntax of its title onward… It's a rather Seussian premise, and Collins underscores the joke by nudging narration and dialogue into half-rhyme… For a book about the liberating joys of disruption, though, it's exceptionally disciplined: Collins renders several hundred pages of immaculately ruled buildings and bean-faced people (and the fuzzy curlicues that interfere with them) in meticulous, microdetailed pencil textures.' – New York Times
'An artistic marvel.. a poignant parable… the interior contents are just as gripping as the name' -  AV Club Books of the Year
'Taken overall, it reminds me of nothing so much as a Roald Dahl novel … a fable for our times.' – New Statesman
'Clever, funny and beautiful to look at, the last time I came across facial hair this compelling, it was attached to the chin of Roald Dahl's Mr Twit, a character whose creator would undoubtedly have loved THE GIGANTIC BEARD THAT WAS EVIL – and whose influence, unless I'm much mistaken, may be felt on its every page. A fairytale for adults that children will also adore, THE GIGANTIC BEARD THAT WAS EVILis surely destined to become a classic.' – The Observer
'Collins' wonderful debut unfolds with slow and simple elegance through black-and-white panels, Dave's increasingly intimidating beard contrasting beautifully with Here's clean lines and tight-lipped populace. The result is an imaginative and funny fable that can be enjoyed on its own terms and as a nicely judged satire on ignorance, routine and the deadening influence of corporate and celebrity culture.' – The Guardian
'… happily as splendiferous as its title.An inspired swirling of the mundane with the surreal, the plot might be simple but his satire on modern life is witty and thoughtful.' – Metro
'Collins has created a total work of art which elevates itself beyond comparison.' – Literary Review