The File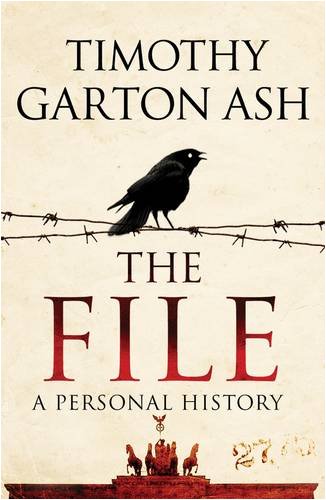 In 1992, after the Berlin Wall came down and the archives of Eastern Europe were opened, Timothy Garton Ash walked into the ministry which now looks after the records of the Stasi, the East German secret police, and asked if there was a file on him. There was – one marked 'Romeo'.
'The File' is the wry, compelling and ultimately very moving story of what was in the buff-coloured binder, and of the avenues – personal, political and historical – down by which Garton Ash was led by it. It begins autobiographically, as he recalls his life as a young man in the charged atmosphere of cold war Berlin, but quickly and brilliantly opens out, as he tracks down and confronts those who once tracked him for the Stasi. He remembers who were, or who he thought were, his friends; he discovers how some of them became informers; he talks to Stasi officers who had him down as a British spy. His journey also takes him unexpectedly back to Britain, to our own secret world.
Deftly peeling back layer after layer of history and deception, Garton Ash shows us, wittily and subtly, how nearly impossible it is to establish any historical truth, how far our lives are actually built on forgetting, and how much the way we act depends on the circumstances in which we are placed. 'Amidst the ghosts of secret Germany', he writes, 'I was searching for the answer to a personal question. What is it that makes one person a resistance fighter and another the fateful servant of dictatorship? This man a Stauffenberg, that a Speer? I am searching still'.
"He is our best informed and beadiest commentator on Europe – eloquent, sceptical, fearless, with a tinge of idealism so wary as to be acceptable."
CRAIG RAINE
"It is with minimal exaggeration that I state that, in the future, there will probably be streets in Warsaw, Prague and Budapest bearing the name of Timothy Garton Ash."
KAREL KYNCL, 'Independent'
"Garton Ash is, in the most literal sense of the term, a contemporary historian. He writes primarily as a witness to the events he is treating, and not just as an outside witness but often as an inside one as well; for his own involvement in these events, intellectual and emotional, is of such intensity that he can speak, in a sense, from the inside as well as the outside. Yet the sense of the historic dimension of the events in question is never lost. And the quality of the writing places it clearly in the category of good literature."
GEORGE F. KENNAN, 'New York Review of Books'
--This text refers to an out of print or unavailable edition of this title.
Territories:
Chinese: China Times Publishing (Taiwan) Dutch: Kosmos Publishers (N/L) English: Collins Estonian: Varrak Publishers Ltd (Estonia) German: Carl Hanser Verlag (Germany) German: S. Fischer (Germany) Italian: Arnoldo Mondadori (Italy) Japanese: Misuzu Shobo Polish: Spoleczny Instytut Wydawniczy Znak Portuguese: Noticias Editorial Spanish: Tusquets Editores (Spain) Swedish: Norstedts Forlag (Sweden)