History Of The Present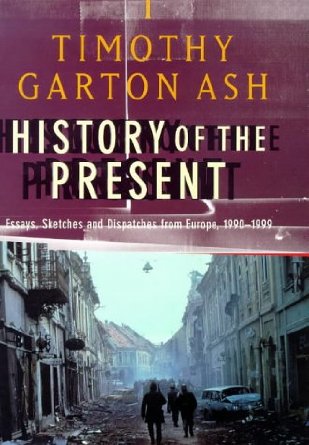 An epic account of an epic period of history
'Our best informed and beadiest commentator on Europe' Craig Raine
History of the Present by Timothy Garton Ash
1989-1999 have been ten epic years in European history. The collapse of the Berlin Wall, the 'velvet revolution' in Czechoslovakia, the reunification of Germany, and the successful shift from communism to capitalism in Poland, the Czech Republic, and Hungary... no-one could have predicted these dramatic changes. Yet no-one could have foreseen the tragic events in the former Soviet Union and former Yugoslavia. The last ten years have been the best of times - and the worst of times.
The Europe of the 1990s is the stage for Timothy Garton Ash's momentous History of the Present. He has written history as it happens - combining a journalist's ability to transport us to the heart of a situation, with the razor-sharp analaysis of a historian. Why was Solidarity hero Lech Walesa replaced as president by a former Communist apparatchik? What were the causes for the split of Czechoslovakia? Why did the Serbs support Milosevic? He raises issues which affect the whole of Europe: post-liberation, how can a country deal with the 'old guard'? How does a people come to terms with a bitter and often brutal past? And he describes how these events have implications for every European: Is European integration more or less likely without the cold war? Why is Western Europe going ahead with monetary union?
Uniquely, Garton Ash has a direct line to the major players at the heart of the changes in Europe. In the book he visits the former East German leader Erich Honecker in prison, describes the brooding Lech Walesa in the aftermath of his election defeat, debates the role of the intellectual in politics with Vaclav Havel in Prague, and discusses German unification with Margaret Thatcher at Chequers. But he also tells the human stories of the individuals behind the headlines: the founder of a newspaper in Warsaw; a young woman from Sarajevo.
Above all, History of the Present is a passionate book: it urges us to understand the lessons of the last ten years and is a personal plea that 'Western' leaders should play their role in creating a liberal order for the whole of Europe. It establishes Timothy Garton Ash not just as a great British commentator on Europe, but as a major participant in the all-European debate.
Territories:
Czech: Cesky Rozhlas Praha Dutch: Atlas English: Penguin Books Estonian: Varrak Publishers Ltd (Estonia) German: Carl Hanser Verlag (Germany) German: Deutscher Taschenbuch Verlag Italian: Arnoldo Mondadori (Italy) Portuguese: Noticias Editorial Spanish: Tusquets Editores (Spain) Swedish: Manpocket Swedish: Norstedts Forlag (Sweden)