One Big Damn Puzzler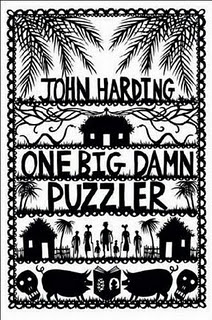 On a remote South Pacific island paradise, an elderly tribesman is translating "Hamlet" into local Pidgin English. Much to his annoyance, his struggles with the Bard are interrupted by the arrival of an unexpected visitor. William Hardt is a young American lawyer, he has Obsessive Compulsive Disorder and he has come to help. And from that moment on, nothing will ever be the same. For what (and who) he finds there will challenge both his and our values and our ideas about love, life and even death.
Bursting with good things, from the islanders themselves - with their curious logic, strange notions about sex and addictive rendering of English - to moments of aching sadness as much as life-affirming farce, this exuberantly original novel confirms John Harding as one of contemporary fiction's most entertaining and observant chroniclers of the human condition.
"Enormously enjoyable...Harding tackles this novel's huge, tragic subject with a blissfully skewed lightness of touch." Deborah Moggach
"Masterly...ambitious in scope and executed with wit and exuberance, John Harding has created a rich, complex and endearing fictitious world which holds important truths for our own." Daily Mail
"Instantly winning...it made me laugh. A lot...Gaugin-gaudy, and as rich and spicy as a good dish of stewed yam" Daily Telegraph
"Blackly comic...intensely literary...an allusive tour de force... thoroughly entertaining." The Times
"A multi-layered comedy...laugh-out-loud funny, ambitious, carefully constructed, addictive, this novel is one big damn fine achievement." Glasgow Herald