Mad Blood Stirring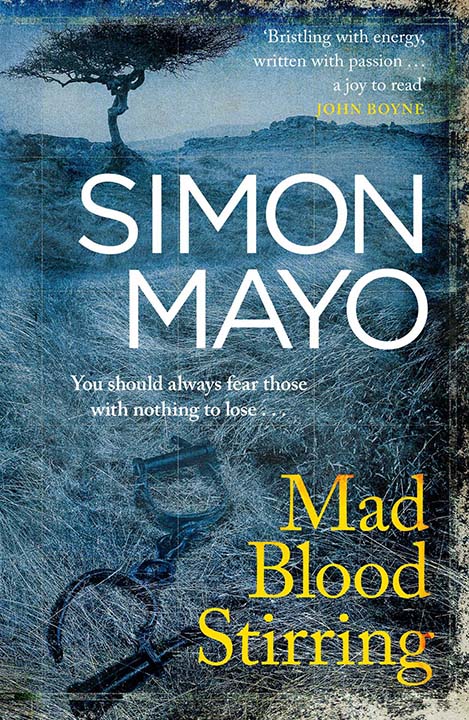 Mad Blood Stirring is based on a true story.
In 1815, after Great Britain and the United States have declared peace in the so-called Second American War of Independence, a group of captured US sailors are delivered to the legendary Dartmoor Prison, a godforsaken spot in the far reaches of Devon, where they are immediately immersed in a stew of political and racial tension among the incumbent prisoners-of-war.
Here there are seven accommodation blocks - six white, one black - where, with the war over, the situation within the prison walls is becoming ever more explosive, a powder keg waiting to blow...
Mad Blood Stirring was first published by Doubleday in April 2018.
'The plot grows from a kernel of historical truth, but his book dazzles not so much as fact than as fiction' The New York Times
'Mad Blood Stirring is an astonishing account of an explosive piece of neglected history. Shakespeare's Romeo and Juliet is woven through a tense prison drama that sets itself against the epic backdrop of mighty Dartmoor. The passions unleashed in Simon Mayo's riveting account places black against white, Americans against Britons and the stirring soul of a forbidden love caught in between. It's a rapid page turner with dark humour, intellectual heft, and a gallery of deeply human characters that shake our spirits. This is a cracking novel.' Sir Kenneth Branagh
'Bristling with energy, written with passion, Mad Blood Stirring is a joy to read.' John Boyne
'If you like your historical thrillers dark and emotional, you'll absolutely love getting swept up in this one.' Heat Magazine
'Well researched and full of action, Mayo brings a forgotten moment in history to life.' The Sun
'Rollicking fun, written with rude energy and humor' The Wall Street Journal
'Vividly imagined' Guardian
'Mayo has created a searing portrait of humanity at its most brutal and tender' Publishers Weekly