Itch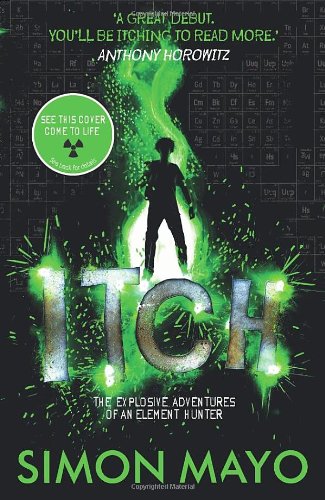 'A great debut. You'll be itching to read more.' - Anthony Horowitz
'We confidently acclaim this as a soon-to-be children's classic' – The Guardian 
Meet Itch - an accidental, accident-prone hero. Science is his weapon. Elements are his gadgets. All-action adventure perfect for fans of Alex Rider and Young Bond.
Itchingham Lofte - known as Itch - is fourteen, and loves science, especially chemistry. He's also an element-hunter: he's collecting all the elements in the periodic table. Which has some interesting and rather destructive results in his bedroom.
Then, Itch makes a discovery. A new element, never seen before. At first no one believes him - but soon someone hears about the strange new rock and wants it for himself. And Itch and his family are catapulted into a breathless adventure with terrifyingly high stakes . . .
The debut novel from BBC radio presenter Simon Mayo.
'Brilliantly zany' - The Times
'Amid the teenage intrigue and heart-in-mouth escapades there are sequin flashes of real science...  the story moves along in a high-speed Hitchcockian manner, quite complex scientific ideas introduced and then dropped swiftly as the action starts again... Can such adventures inspire a new generation of unashamed science geeks? Why not? WE Johns's Biggles stories and Arthur Ransome's sailing books exposed new horizons for young urban readers. Simon Mayo has given us an amiable hero who could do the same' - The Guardian
'With its explosive mix of action and adventure, chemistry lessons will never be the same again.' - Daily Express
'Itchingham, a science-mad boy, is trying to collect examples of all the elements. He gets hold of a peculiar rock from a shadowy contact but some sinister heavies are also keen to get hold of it (and him) and he goes on the run in this gripping read.' - FT, Books of the Year
'Mayo delivers a fun, frightening, gutsy adventure story.. Fans of science will love its central role, and those readers who crave adrenalin will appreciate the view from the edge of their seats.' - Kirkus 
'Mayo balances the high-stake plot and serious reality of radiation poisoning with an underlying absurdity... It's an action-packed adventure with chuckle-worthy moments, amiable protagonists and a premise derived from plausible scientific theory. Readers will never look at common household objects in the same way ever again' - Publishers Weekly
'A gripping and wholly enjoyable debut, and I'm greatly anticipating the sequel.' - Daily Record
'The villains are deliciously evil, and Itch is a beautifully flawed-but-attractive protagonist who must balance his scientific passion against his social ethics. This is a wonderful page-turner that promises to form the basis of a fine series of science thrillers.' Parent's Choice - Silver Award
'Mayo's story about the misadventures of a 14-year-old science nut, Itchingham Lofte, whose experiments result in exploding dustbins and "mass puking over teachers", soon had 150 pupils erupting in spontaneous applause. By the time he wrapped things up 40 minutes later, every child wanted his autograph and the queue snaked around the hall.' - Evening Standard
Territories:
World: Random House<br />