Dispatches From The Sporting Life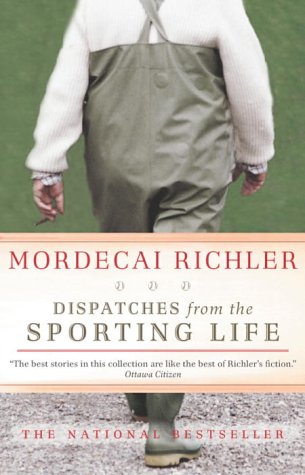 The first book to be set in the new Richler typeface, commissioned by Random House of Canada Limited and Jack Rabinovitch in memory of Mordecai.
Mordecai Richler's final book pays homage to his personal heroes and celebrates a writer's love of sport with his trademark irascibility, humour and acuity.
Even while writing his bestselling novels, Mordecai Richler nurtured his obsession with sports, writing brilliantly on ice hockey, baseball, salmon fishing, bodybuilding, and wrestling for such publications as GQ, Esquire, The New York Times Magazine, Inside Sports, Commentary, and The New York Review of Books. Mordecai himself chose the pieces to include in Dispatches from the Sporting Life, and together they give us an intimate portrait of a man who admired the players and prized the struggle of sport -- as much as he enjoyed skewering those who made a mockery of its principles.
His encounters with Pete Rose, Wayne Gretzky and Gordie Howe ("Mr. Elbows…the big guy with the ginger-ale bottle shoulders") are by turns bizarre, moving and uproarious. Richler travelled with Guy LaFleur's Montreal Canadiens ("Les Canadiens sont là!"), but also with the "far-from-incomparable" Trail Smoke Eaters to Stockholm for the world hockey championships, where Canadians are "widely known, and widely disliked."
There are wonderful pieces here about Ring Lardner, George Plimpton, Hank Greenberg and lady umpires, and a marvellous essay on his unlimited enthusiasm for the all-inclusive Encyclopedia of Jews in Sports, which includes among its champions Sandy Koufax, "who may well be the greatest pitcher of all time, regardless of race, colour or creed," as well as one Steve Allan Hertz, an infielder who played five total games in Houston in 1964 and had a batting average of .000.