Before I Find You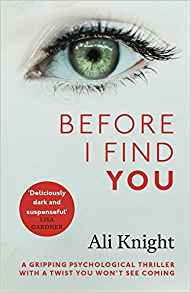 Maggie is a husband watcher. A snooper, a marriage doctor, a killer of happy-ever-afters. She runs her own private detective agency specialising in catching out those who cheat. And she's very good at it. Until Helene walks through her door.
Helene is a husband catcher. A beautiful wife, a doting stepmother, a dazzling presence at parties. She counts herself lucky to have married one of the most eligible men in town - Gabe Moreau. Until she sees something that threatens her little family of three.
Alice is a perfect daughter. Apple of her father's eye, a kind stepchild to Helene, a tragic daughter of a dead mother. She lives a sheltered but happy life. Until she finds a handwritten note on her father's desk: 'You owe me. I'm not going away.'
All three women suspect Gabe Moreau of keeping secrets and telling lies. But not one of them suspects that the truth could result in murder . . .