Tolkien's Gown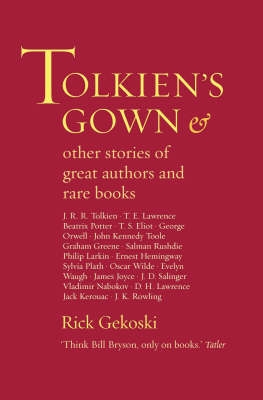 Rick Gekoski has been described as the Bill Bryson of the book world. Rare book dealer, academic, publisher, critic, bibliographer, and broadcaster, his BBC Radio series Rare Books, Rare People was acclaimed by The Daily Telegraph as 'one of the gems of Radio 4'. In Tolkien's Gown, a book based loosely on that hugely successful radio series, he discusses twenty great works of modern literature as both texts and objects. At once erudite and funny, the essays give a publishing biography of each book, together with comments about the author's involvement with first editions of the works. 'What is the value of a book?' he asks. The answers are both critical and financial, involving appraisals of the literary qualities of the works, together with an account of their (sometimes surprising) value in the rare book trade. His stories are fascinating and diverse, and involve memorable encounters with, among others, Graham Greene, William Golding, J.D. Salinger, Ted Hughes, Salman Rushdie, Julian Barnes and Harold Pinter. Relations between book dealers and authors can be uneasy: J.D. Salinger threatens a law suit, William Golding produces a parody of the author, Ted Hughes thinks he has been overcharged. While Graham Greene is simply delighted to have done business. For anyone who loves books, Tolkien's Gown offers a wealth of amusement and instruction, and enough literary anecdotes to last a lifetime.
Publisher:
Ullstein buchverlag GmbH
Territories:
German: Ullstein buchverlag GmbH Japanese: Hayakawa Publishing, Inc. Taiwanese: LOCUS PUBLISHING CO.