This is the Ritual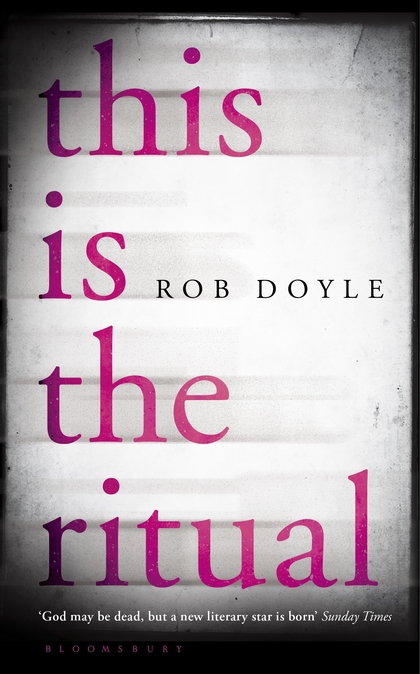 Jean-Paul Finnegan stands on board the Ulysses ferry heading home to Ireland. 'Not one person in Ireland has even read Joyce!' he rants, terrifying the passengers around him. A young man in a dark depression roams the vast, formless landscape of a Dublin industrial park where he meets a strange vagrant in the grip of a dangerous ideology. A woman fleeing the break-up of a long-term relationship finds herself taking part in an unusual sleep experiment. A man obsessed with Nietzsche clings desperately to his girlfriend's red shoes.
Among these masterful stories lurk characters that straddle the boundary between fiction and non-fiction. What did happen to Killian Turner, Ireland's vanished literary outlaw? Or the Glaswegian novelist Malcolm Donnelly? And just who is Rob Doyle?
Exploring notions of masculinity, failed idealism, sex and the writing life – and moving from Paris to Barcelona, Dublin and London – these inventive, funny, often explicit stories introduce a powerful and provocative new literary voice.
This is the Ritual was published by Bloomsbury in 2016.
"I'm tempted to quote Nietzsche back at Rob Doyle: he's not a writer – he is dynamite! Except – like Nietzsche – he's a tremendous writer too. And I have a suspicion that the author of this provocative and thrilling collection is going to get even better" –  Geoff Dyer
'Doyle plumbs the bleaker aspects of literary life with startling precision and candor' – The New York Times
"A world-class writer" –  Joanna Walsh, author of Vertigo
"Doyle's fiction deals with life's major themes: sex, death, guilt, shame, the meaning of existence ... Doyle's storytelling is compelling and engaging, suffused with wit, honesty and emotional intelligence" –  Irish Times
"Full of booze, books, sex and despair yet, despite the bleakness of its stories, skewered as they are on broken hearts and broken artistic dreams, Doyle's cocky passion provesirresistible. He writes with the confidence of a literary giant ... A series of heartening and humane interior struggles. Doyle is as good as everyone – from John Boyne to Colm Toibin – says he is" –  Daily Mail
"Doyle displays a ludic sensibility … The stories are gleefully nihilistic … He has a gift for evoking the base and unpleasant aspects of life in vivid and visceral detail ... It creates an almost hypnotic effect; a miasmic fictional space into which the reader slips" –  Times Literary Supplement
"A tremendous talent. Every page fizzes with vitality" –  Kevin Barry, author of Beatlebone
"The mutinous fragments of Rob Doyle's fictions are bilious, provocative and unnervingly compelling" –  Colin Barrett, author of Young Skins
"Bleak, brilliant stories … Don't be put off by literary allusions. These compelling vignettes stand up for themselves ... They transport us beyond the routines of our daily round, and are visceral, scatological and frequently disturbing ... It's refreshing to see a young Irish writer keeping up the cloacal tradition introduced by Swift and continued by Joyce " –  Sunday Times
"Bold ... He sets up a metafictional diving board and leaps from it with misanthropic glee... An authentically manic energy" –  Guardian
"Ireland is producing some of Europe's finest short-story writers. Latest to shine alongside live wires Kevin Barry, Colin Barrett and Claire Keegan is Rob Doyle with a collection of hilarious, sharp-tongued page-turners ... A bright, poetic, erudite new voice. I loved this" –  Big Issue
"Doyle's characters, and the author himself, tramp and trip over people and places in thisfragmented odyssey" –  RTÉ Guide, 'The best novels of the coming year'
"Rob Doyle pulls no punches with his uncompromising style" –  Herald