The String Diaries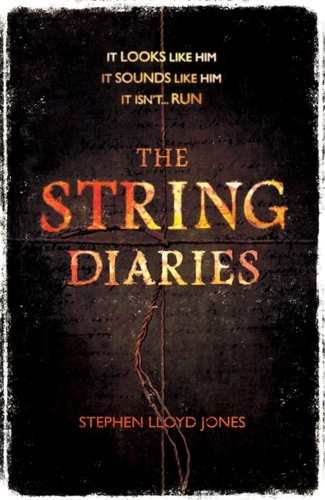 The STRING DIARIES is his first novel and Headline will be publishing this in 2013 and a sequel in 2014. It was selected by Amazon as one of their top ten crime and thrillers of 2013.
Now:
Cadair Idris, Snowdonia. Hannah Wilde flees to Llyn Gwyr, a remote mountain farmhouse, her husband dying on the passenger seat beside her. In the back of the car sits their seven year old daughter. Hannah's father is missing. Her mother is already dead.
Mysterious strangers are converging on the mountain. And Hannah must decide who to trust, and who to sacrifice, if she's to defeat the predator that's stalked five generations of her family.
1979:
Balliol College, Oxford. Professor Charles Meredith – brilliant, obsessive – clashes with a beautiful French woman in Balliol's library. When the woman disappears, and her identity is exposed as a sham, Charles is dragged into a terrifying pursuit.
1873:
Gödöllö, Hungary. Lukas Balázs prepares for his végzet night, the celebration that symbolises his entry into adulthood. But the festivities are about to go horribly wrong, and only Lukas knows why.
A centuries-old secret is about to unravel.
Jakab is coming.
'A neo-gothic treat; original, richly imagined and powerfully told' – The Guardian
'[Jones] doles out his narrative revelations with patience, turning over his cards deliberately like a well-trained casino dealer' – Entertainment Weekly
'THE STRING DIARIES is terrifying, and deliciously so… a remarkably adept first novel..  a page-turner, all right, a sophisticated horror story that induces elemental terror.' – NY Daily News
'A gripping, multi-stringed thriller…THE STRING DIARIES is a page turner, and will keep you awake late into the night'  – SFX
'This is Jones' first novel, and you don't see many debuts more ambitious and memorable than this one.' – Booklist (starred review)
'A big debut.. fast and furious.. Terrific stuff.' – The Bookseller
'With THE STRING DIARIES, Stephen Lloyd Jones has created a new mythology of the monstrous to rival Stoker's or Shelley's.  Grounded in the real world and populated by characters we believe in, this is a book of magic for the doubtful, a fantastic tale for skeptics, at once transporting and convincing. –  Andrew Pyper, author of The Demonologist
'I have never read a book with such frenzied impatience. THE STRING DIARIES is unputdownable. Stephen Lloyd Jones has written a debut novel as frightening and layered as Elizabeth Kostova's The Historian and as clever and riveting as Dan Brown's The Da Vinci Code.' -Benjamin Percy, author of Red Moon, The Wilding and Refresh, Refresh
'I loved this book. –  Marcus Sakey, author of Brilliance
'THE STRING DIARIES is an engrossing, mind-bending supernatural tale, and Stephen Lloyd Jones is as exciting a new voice as I've come across in some time, a writer who understands what makes the pulse race' –  Michael Koryta, author of Those Who Wish Me Dead
'Reading THE STRING DIARIES made me feel, in the best sense, like a child again. Nothing was more important than the fate of Stephen Lloyd Jones's courageous and very human heroine Hannah Wilde. Meals went uncooked, bills went unpaid, as I waited to find out if she would win freedom for herself and her daughter against the forces of darkness. I was scared, enthralled and amazed by this stunning debut' Margot Livesey, author of The Flight of Gemma Hardy
'At once chilling and soulful, this hauntingly powerful tale weaves together the best elements of the psychological thriller, fantasy horror, and historical fiction. Stephen Lloyd Jones has penned a deeply inventive, dazzling debut novel' Eliot Pattison, author of Edgar Award-winning The Skull Mantra
'So gripping you'll want to read late into the night; so terrifying you shouldn't' – Simon Mayo, the Radio 2 Book Club