The Disciple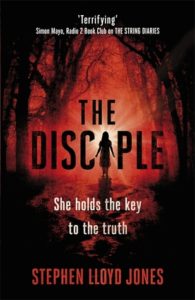 From the author of The String Diaries (Headline, Littlebrown US + 8 other territories, TV rights optioned by ITV) comes a terrifying new thriller…
Driving home one winter evening, Edward Schwinn encounters a horrific road accident. Wrecked vehicles litter the road. Bodies lie in broken pieces. In the back of a mangled 4x4, the only survivor: a woman, heavily pregnant, handcuffed and bound.
When she begs Edward to hide her at his isolated hunting cabin, he reluctantly agrees. But after a night filled with terrifying events, the woman goes into labour. Ignoring her pleas, he seeks help at a nearby mountain rescue centre.
When events there take a tragic turn, Edward Schwinn finds himself a surrogate father to a newborn baby girl, and a fugitive on the run from forces he does not understand. After what he's just witnessed, Edward suspects that the girl might just be the most important thing ever to happen to him. But if she's to survive, he must first confront what's hunting her.
And what's hunting her is evil beyond measure. Cruelty beyond comparison.
Once it reveals its face, nothing will be the same again.
Not for Edward. Not for any who live to see it.
Praise for Stephen Lloyd Jones
'A neo-gothic treat; original, richly imagined and powerfully told' - The Guardian
'[Jones] doles out his narrative revelations with patience, turning over his cards deliberately like a well-trained casino dealer' - Entertainment Weekly
'The String Diaries is terrifying, and deliciously so... a remarkably adept first novel..  a page-turner, all right, a sophisticated horror story that induces elemental terror.' - NY Daily News
'A gripping, multi-stringed thriller...The String Diaries is a page turner, and will keep you awake late into the night'  - SFX
'You don't see many debuts more ambitious and memorable than this one.' - Booklist (starred review)
'A big debut.. fast and furious.. Terrific stuff.' - The Bookseller
'Stephen Lloyd Jones has created a new mythology of the monstrous to rival Stoker's or Shelley's... this is a book of magic for the doubtful, a fantastic tale for skeptics, at once transporting and convincing. -  Andrew Pyper, author of The Demonologist
'I have never read a book with such frenzied impatience. The String Diaries is unputdownable. Stephen Lloyd Jones has written a debut novel as frightening and layered as Elizabeth Kostova's The Historian and as clever and riveting as Dan Brown's The Da Vinci Code.' -Benjamin Percy, author of Red Moon, The Wilding and Refresh, Refresh
'I loved this book. -  Marcus Sakey, author of Brilliance
'The String Diaries is an engrossing, mind-bending supernatural tale, and Stephen Lloyd Jones is as exciting a new voice as I've come across in some time, a writer who understands what makes the pulse race' -  Michael Koryta, author of Those Who Wish Me Dead
'Reading The String Diaries made me feel, in the best sense, like a child again. Nothing was more important than the fate of Stephen Lloyd Jones's courageous and very human heroine Hannah Wilde. Meals went uncooked, bills went unpaid, as I waited to find out if she would win freedom for herself and her daughter against the forces of darkness. I was scared, enthralled and amazed by this stunning debut' Margot Livesey, author of The Flight of Gemma Hardy
'At once chilling and soulful, this hauntingly powerful tale weaves together the best elements of the psychological thriller, fantasy horror, and historical fiction. Stephen Lloyd Jones has penned a deeply inventive, dazzling debut novel' Eliot Pattison, author of Edgar Award-winning The Skull Mantra
'So gripping you'll want to read late into the night; so terrifying you shouldn't' - Simon Mayo, the Radio 2 Book Club