The Orchard on Fire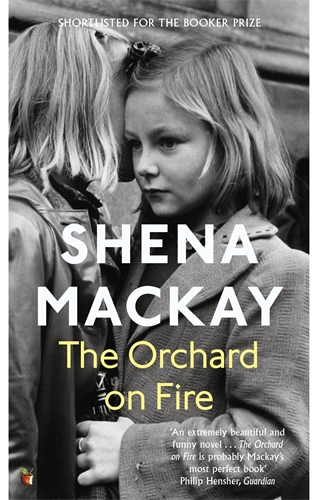 SHORTLISTED FOR THE BOOKER PRIZE
Many regard this as Mackay's masterpiece. A touching, funny novel about childhood in the 1950s: friendship, village life and lost innocence.
'What made the orchard miraculous was an abandoned railway carriage, set down as if by magic, its wheels gone, anchored by long grass and nettles. Ruby and I stared at it and each other . . . dark-windowed, out of place in a thicket of thorns, it was the perfect hide-out, house, the camp of our dreams'
When April's parents move from London to rural Kent she makes her first best friend. With flame-haired, fearless Ruby, April shares secrets, dares and laughter. But Ruby has secrets of her own -bruises that she hides.
Also seeking April's friendship is old Mr Greenidge, immaculate in his linen suit, with eyes like blue glass. He follows her around the village with his beguiling dachshund, and wants to learn everything about her.