Ritual Lighting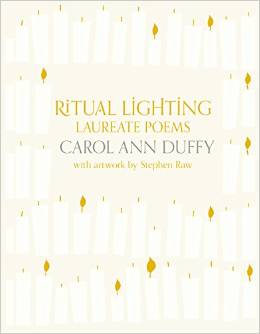 Carol Ann Duffy has been Poet Laureate of the United Kingdom since May 2009. In her first five years, she has written brilliant, challenging, lyrical and relevant poetry about people, places and significant moments, past and present. From Chaucer to Shakespeare, from Valentine's Day to Christmas Eve, from the industrial cities to the White Cliffs of Dover, this selection of her public poems celebrates our nation and its rituals.
Beautifully illuminated by Stephen Raw - a wonderful textual artist who recreates words, lines and poems in the most elegant and sumptuous form - Ritual Lighting is published alongside 'Poetry for the Palace: From Dryden to Duffy', a major exhibition of Laureates' manuscripts from the Royal Collection. Held at the Palace of Holyroodhouse, Edinburgh, the exhibition also showcases a selection of Stephen's original artwork and runs from August to November 2014.
Ritual Lighting marks the half-way point of Carol Ann Duffy's Laureateship and is a stunning gift book from Britain's most popular poet.