Faces in the Crowd (Los ingrávidos)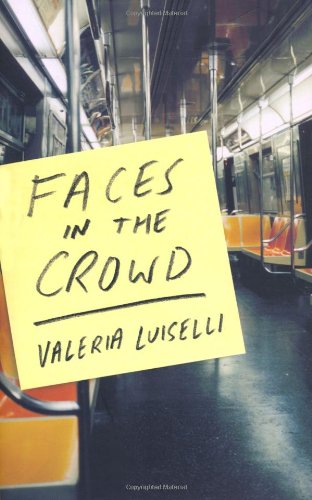 Faces in the Crowd is a multi-layered story, told by two narrators, that can be read linearly or back-to-front, or from the middle working out toward the edges.The first narrator is much like a 21st century Emily Dickinson, living in Mexico City: an agoraphobic woman who relates to the world vicariously through her children, husband, a past that both overwhelms and liberates her, and a house she cannot abandon nor fully occupy. While she tells the story of her past as a young editor in New York City desperately trying to convince a publisher to translate and publish the works of Gilberto Owen—an obscure Mexican poet who lived in Harlem during the 1920s and whose ghostly presence constantly haunts her in the subway—she relates the slow but inevitable disintegration of her present family life. As the story of her past and present evolves, the novel unfolds into a second novel, told by Owen.
This second novel at first grows unhurriedly and somewhat under the shadow of the first, but soon takes over in a vertiginous and almost feverish pace. With both an acute sense of humor and a grave melancholy, Owen narrates the last months of his life in the 1950s in a run-down apartment in Philadelphia: he is dying and his body is undergoing a painful metamorphosis which he interprets as a process of disappearing. Simultaneously, he recounts his years as a young poet during the 1920s Harlem Renaissance, where he meets writers such as Nella Larsen and Louis Zukofsky, and befriends Federico García Lorca. Owen, like the other narrator in the novel, is haunted by the ghostly image of a woman he repeatedly sees in the subway.
The two stories are mutually distorting mirrors and as they draw to an end the voices of both narrators begin to overlap until they drift into one single stream, an elegiac evocation of love and loss. Faces in the Crowd is a mesmerizing novel about identity and ghostly existences by a very talented young writer.
'A multi--angled portrait of the artist as a young woman, as a con artist, as a young mother and wife, this book immerses the reader in the most enchanting and persuasive intimacy. Valeria Luiselli is an astonishing and entirely original new writer' - Francisco Goldman
'Valeria Luiselli is a writer of formidable talent, destined to be an important voice in Latin American letters. Her vision and language are precise, and the power of her intellect is in evidence on every page' - Daniel Alarcon
Translated by Christina MacSweeney.
Territories:
Spain and South America: Sexto Piso UK: Granta Books US: Coffee House Press Brazil: Objetiva China: Horizon Croatia: Edicije Bozicevic Denmark: C&K Forlag France: Actes Sud Germany: Kunstmann Iraq: AIMada Group Israel: Miskal Italy: Nuova Fronteira Korea: Hyundaemunhak Publishing Co. Lithuania: Kitos Knygos Netherlands: Karaat Norway: Cappelen Damm AS Poland: Foksal Portugal: Bertrand Slovenia: Cankarjeva Zalozba Sweden: Rámus Turkey: Siren