Chitty Chitty Bang Bang and the Race Against Time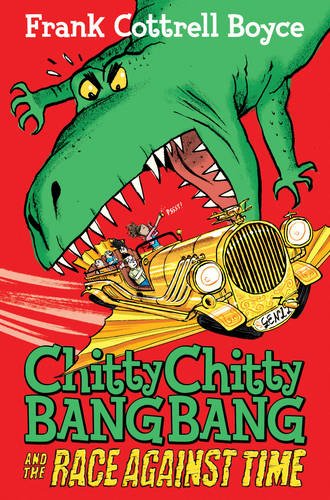 After their first adventure, the Tooting family is ready to head home to Zborowski Terrace. But Dad inadvertently yanks Chitty's "Chronojuster", sending them to a "home" that looks a lot like Jurassic Park. But this is no theme park – a very real and very hungry T. rex charges them! Resourceful Chitty rescues the Tootings from prehistoric times and takes them on an unexpected tour of Prohibition-era New York, where Chitty wants to compete in the famous Prix d'Esmerelda's Birthday Cake race to the lost city of El Dorado and back again, with misadventures and surprise stowaways along the way.
Get ready for a hilarious high-flying, time-travelling adventure, with celebrated author Frank Cottrell Boyce behind the wheel and artist Joe Berger riding shotgun.
Territories:
British Commonwealth Excluding Canada: MacMillan, World Chinese: Shanghai99, World Taiwanese: Comm Taiwan, World English Audio, Unabridged: Ian Fleming, English USA: Candlewick, World French: Gallimard, World Dutch: Gottmer, Word Korean: Open Books