Together: A Manifesto Against the Heartless World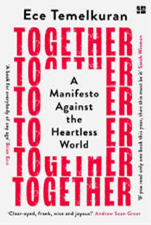 In 2020 protest movements across the world revealed the inequalities sewn into the fabric of society. The wildfires that ravaged Australia and California made it clear we are in the middle of a climate catastrophe. The pandemic showed us all just how precarious our economies really are, and the conspiracy theories surrounding the US election proved the same of our democracies. Those in charge do not have the answers. In fact, those in charge, more often that not, are the problem. So, what do we do?
In Together, awardwinning political commentator Ece Temelkuran puts forward a compelling new narrative for our current moment, not for some idealised future but for right now, and asks us to make a choice. To choose determination over hope; to embrace fear rather the cold comfort of ignorance; to save our energy for an unwavering attention on those in power and the destructive systems they uphold, rather than wasting time spewing out anger and outrage online. Above all, this book asks you to choose to have faith in the other human beings we share this planet with. This is not about how or why we messed things up. This is about what kind of world we want to live in, and the choices we must make to get there.
"Suffering a sorrow that we can overcome. Longing for a freedom that we don't yet have. For as long as I can remember, these have been the sensations Beethoven's music planted into my soul. Together gave me the same sensations" - Yanis Varoufakis
"Read this book: you will bleed and you will feel protected at the same time. It's the magic of Ece Temelkuran" - Roberto Saviano
"Temelkuran writes gorgeously about the human situations – from Turkey to Croatia – that demand new thinking. The insights of this book, whose tone is a potent mix of fierce urgency but unyielding calmness, make Together an important contribution to how politics will evolve in the era of a pandemic" - Irish Times
Territories:
Croatia: Naklada Ljevak; France: Editions Stock; Germany: Hoffmann und Campe; Italy: Bollati Boringhieri; Portugal: Themes and Debates; Spain: Anagrama; Turkey: Everest.