The Vote: How It Was Won And How It Was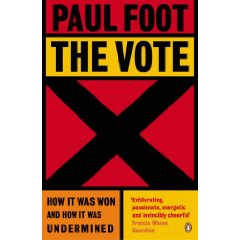 This is the dramatic and shocking story of the long, hard-won battle for the vote, and of the slow erosion of its power that followed. In a vast narrative sweep that takes us from the English Civil War to the present day, Foot traces the struggle for universal suffrage, and shows how concern for property first delayed and then fatally hobbled the movement towards parliamentary democracy. Both authoritative history and rousing polemic, this is a must-read for anyone interested in how today's political scene was shaped.
Territories:
English: Hamish Hamilton Ltd.