The Ordeal Of Elizabeth Marsh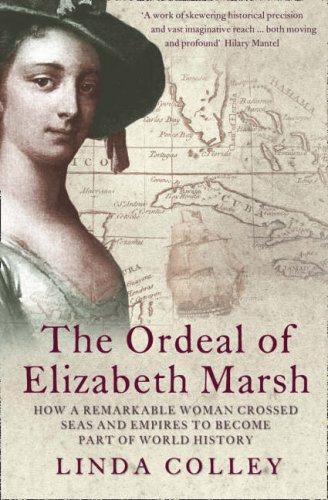 From the author of 'Britons', the story of the exceptional life of the intrepid Elizabeth Marsh - an extraordinary woman of her time who was caught up in trade, imperialism, war, exploration, migration, growing maritime reach, and new ideas. Linda Colley's new book breaks the boundaries between biography, family stories and global history. This is a book about a world in a life. An individual lost to history, Elizabeth Marsh (1735-85) travelled farther, and was more intimately affected by developments across the globe, than the vast majority of men. Conceived in Jamaica and possibly mixed-race, she was the first woman to publish in English on Morocco, and the first to carry out extensive overland explorations in eastern and southern India, journeying in each case in close companionship with an unmarried man. She spent time in some of the world's biggest ports and naval bases, Portsmouth, Menorca, Gibraltar, London, Rio de Janeiro, Calcutta and the Cape. She was damaged by the Seven Years War and the American Revolutionary War and linked through her own migrations with voyages of circumnavigation, and as victim and owner, she was involved in three different systems of slavery. But hers is a broadly revealing, not simply an exceptional, life. Marsh's links to the Royal Navy, the East India Company, empire and international trade made these experiences possible. To this extent, her career illumines shifting patterns of British and Western power and overseas aggression. The swift onset of globalization occurring in her lifetime also ensured that her progress, relationships and beliefs were repeatedly shaped and deflected by people and events beyond Europe. While imperial players like Edmund Burke and Eyre Coote form a part of her story, so do African slave sailors, skilled Indian weavers and astronomers, ubiquitous Sephardi Jewish traders, and the great Moroccan Sultan, Sidi Muhammad, who schemed to entrap her. Many modern biographies remain constrained by a national framework, while global histories are generally impersonal. By contrast, in this dazzling and original book, Linda Colley moves repeatedly and questioningly between vast geo-political transformations and the intricate detail of individual lives. This is a global biography for our globalizing times.
"Now Linda Colley has written a full-blown economic romance with an extraordinary range, covering the West Indies, Europe, Africa and India through the life of one woman, bringing all the resources of her skills as a historian and researcher to her story. It is a major achievement and an enthralling narrative." 
Claire Tomalin, The Guardian
"Colley stresses that it is the modern form of global connectivity- the internet- that enable her to follow each archival thread and pull them together for her reader, in a book that is immensely detailed but immaculately organised. Colley's great asset, besides the ease of her style, is her sweep and range of reference, her ability to contextualise for the reader and expose the broader issues that lie behind particular events"
Hilary Mantel, London Review of Books
"She has turned on its head the convention of traditional biography, in which political and economic forces are analysed in order to elucidate our understanding of the subject, in favour of using an individual story to illustrate our global past. The most fascinating parts are Colley's brilliant, eclectic asides: intellectual seasoning on the motivations of migration, or the role of the Navy in the expansion of empire, or the class constraints on women's travel writing"
Andrea Stuart, The Independent
Territories:
HarperCollins Publishers: British Commonwealth ex Canada Pantheon: United States & Canada Italian: Einaudi German: Zweitausendeins