The Giles Wareing Haters' Club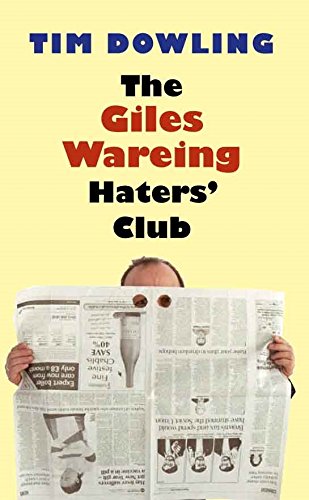 Giles Wareing has started telling people he's forty, even though he's actually thirty-nine years and eleven months. It's supposed to help him conquer the fear, but in fact he has only given the fear a four-week head start. Giles is a freelance writer for a national newspaper – amusing articles about the VHS–Betamax 'format war' of the late 1970s; the origins of the word 'derring-do'; the history of the 1804 silver dollar. He lives in West London with his wife, Caroline, and their two boys. Caroline and Giles's communication these days is mostly limited to statements of (unwelcome) fact: 'There is something wrong with the dishwasher.' 'The shed leaks.' 'The microwave is broken.'
So far, so midlife crisis. Until two things happen. First: Giles gets gout. Or what he thinks is gout. And second: one day, feeling particularly fortyish, he happens to type 'Giles Wareing+unfunny' into a search engine. And that's when he discovers the thread. The thread is called 'The Giles Wareing Haters' Club', and is entirely devoted to holding everything he has ever written up to excoriating criticism and ridicule – a place that has hitherto existed only in Giles's most speculative nightmares.
As Giles becomes obsessed with the thread, with tracking down its participants in order to . . . well, set them straight on a few things, his angst begins to focus on one member of TGWHC: a woman he knows only by the name Salome66 – a woman whose spite begins to take on a bewitching quality even to its wretched object. And when Giles goes on a radio show to discuss his gout but breaks down in sobs live on air, it's only the first sign that things are going really quite badly wrong . . .
A tragedy, a farce and a detective story, The Giles Wareing Haters' Club is an absorbing, hilarious and razor-sharp look at the modern male in all his dysfunctional glory.