The Employees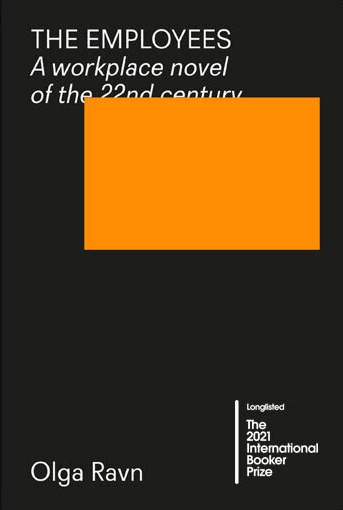 Shortlisted for the 2021 International Booker Prize
Winner of a Jan Michalski Foundation Award
The near-distant future. Millions of kilometres from Earth.

The crew of the Six-Thousand Ship consists of those who were born, and those who were made. Those who will die, and those who will not. When the ship takes on a number of strange objects from the planet New Discovery, the crew is perplexed to find itself becoming deeply attached to them, and human and humanoid employees alike start aching for the same things: warmth and intimacy. Loved ones who have passed. Shopping and child-rearing. Our shared, far-away Earth, which now only persists in memory.
Gradually, the crew members come to see their work in a new light, and each employee is compelled to ask themselves whether they can carry on as before – and what it means to be truly living.
Structured as a series of witness statements compiled by a workplace commission, Ravn's crackling prose is as chilling as it is moving, as exhilarating as it is foreboding. Wracked by all kinds of longing, The Employees probes into what it means to be human, emotionally and ontologically, while simultaneously delivering an overdue critique of a life governed by work and the logic of productivity.

Praise for The Employees

Selected by Ángel Gurría-Quintana for Financial Times, Best Summer Books of 2021
"This beautiful and moving novel, set in a workplace – a spaceship some time in the future – is by turns loving and cold, funny and deliberately prosaic; capable of building a sense of existential horror one minute then quotidian comfort and private grief the next. In deceptively simple prose, threaded on a fully achieved and ambitiously experimental structure, it asks big questions about sentience and the nature of humanity. And about what happiness might be."
– 2021 International Booker Prize judges

"A deeply sensory book, suffused with aroma and alert to tactility... The Employees is not only a disconcertingly quotidian space opera; it's also an audacious satire of corporate language and the late-capitalist workplace, and a winningly abstracted investigation into what it means to be human… This clever, endlessly thought-provoking novel catches something of our recursive search for the nature of consciousness; a question that answers itself, a voice in the darkness, an object moving through space."
– Justine Jordan, The Guardian

"The Employees is a strangely affecting work of speculative fiction which brings Vuillard's war of the poor to the heavens. Irrespective of who wins the Booker International prize, they can be glad of the company they have kept on this ambitious and innovative shortlist."
– Michael Cronin, The Irish Times,

"The Employees brings to mind what might result if Ursula K. Le Guin and Nell Zink had a baby."
– Barbara Epler, TANK Magazine

"Stunning and poetic… All I want to do is quote the many highlighted bits that I keep returning to on a regular basis, lines of poetry that I keep repeating to myself… It is beautifully translated; it is tragic and hopeful and as human as the giving of freckles to a humanoid constructed only for the purpose of eternal labor."
– Barbara Halla, Asymptote

"Beautiful, sinister, gripping. A tantalising puzzle you can never quite solve. All the reviews say that the novel is, ultimately, about what it means to be human. What makes it exceptional, however, is the way it explores the richness and strangeness of being non-human."
– Mark Haddon

"Olga Ravn's critique of life governed by work and the logic of productivity is long overdue. Through poetic insight and emotional eloquence, brilliantly delivered in Martin Aitken's translation from Danish, she has created a frightening, astonishing literary experience.
– Steph Glover, It's Freezing in LA!

"A pocket-sized space odyssey of uncanny proportion. Olga Ravn creates language as poetic data, seducing us with her soft-natured riot upon our sense of sentience. Aboard a doomed ship, a cycle of monologues from both humans and humanoids (at times indistinguishable) compose with spooky innocence a meditation on the vulnerability of intelligence. A sort of delicate Westworld – compact, crystalline, unnerving."
– Yelena Moskovich, author of Virtuoso
"The Employees is a darkish vision – and, of course, not merely one of a possible future but rather of the contemporary workplace… An intriguing take on identity, function, and 'humanity'."

"Samuel Beckett had he written the script for Alien."
– Nicolas Gary, ActuaLitté
"In this science fiction novel, nourished by poetry and symbolism, Olga Ravn shows how life only has meaning through death. An illuminating message at a time when the apostles of transhumanism are trying to circumvent what they see, wrongly, as an end and not a beginning."
– Alice Develey, Le Figaro

"A powerful and philosophical sci-fi experiment from a near-distant future, exploring what it means to be human and alive."
– Børsen ★★★★★★

"As beautiful as it gets: Beauty and longing in the infinite universe."
– Berlingske ★★★★★★

"An unsettling, endlessly dizzying work."
– Politiken ★★★★★

"A disquieting, delectable reading experience and one of the best answers for a contemporary novel I have read in a long time: 'Is this problem human? If so, I would like to keep it.'"
– Kristeligt Dagblad ★★★★★★

"Olga Ravn has long since manifested herself as one of the most important and influential writers in Danish contemporary literature. Her new book is a spirited blend of cyborgs, living stones and productivity optimisations. A most thought-provoking, literary sci-fi novel."
– Jyllands-Posten ★★★★

"The Employees is inspired by Personal Development Planning and the way we speak to each other at work. Turns out, the language of streamlining is terrifying."
– Danish Broadcasting Corporation

"Olga Ravn's new novel from the future is a thought-provoking warning letter to society."
– Information
Territories:
UK: Lolli Editions, US: New Directions, Arabic rights: Athar Publishing; Brazil: Todavia, China: Thinkingdom, Finland: Kosmos; France: La Peuplade + Editions Pocket, Italy: Il Saggiatore, Netherlands: Das Mag, Norway: Samlaget, Portugal: 2020, Romania: Pandora, Russia: Eksmo, Spain: Anagrama for Spanish and Catalan, Sweden: Ellerstrom, Turkey: Can