The Employees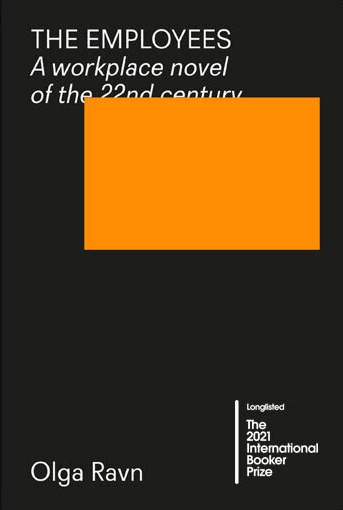 Shortlisted for the 2021 International Booker Prize
Shortlisted for the Ursula K.Le Guin Prize 2022
Longlisted for the National Book Award 2022
Longlisted for the Dublin Literary award 2022
Winner of a Jan Michalski Foundation Award
The near-distant future. Millions of kilometres from Earth.

The crew of the Six-Thousand Ship consists of those who were born, and those who were made. Those who will die, and those who will not. When the ship takes on a number of strange objects from the planet New Discovery, the crew is perplexed to find itself becoming deeply attached to them, and human and humanoid employees alike start aching for the same things: warmth and intimacy. Loved ones who have passed. Shopping and child-rearing. Our shared, far-away Earth, which now only persists in memory.
Gradually, the crew members come to see their work in a new light, and each employee is compelled to ask themselves whether they can carry on as before – and what it means to be truly living.
Structured as a series of witness statements compiled by a workplace commission, Ravn's crackling prose is as chilling as it is moving, as exhilarating as it is foreboding. Wracked by all kinds of longing, The Employees probes into what it means to be human, emotionally and ontologically, while simultaneously delivering an overdue critique of a life governed by work and the logic of productivity.

Praise for The Employees


"This beautiful and moving novel, set in a workplace – a spaceship some time in the future – is by turns loving and cold, funny and deliberately prosaic; capable of building a sense of existential horror one minute then quotidian comfort and private grief the next. In deceptively simple prose, threaded on a fully achieved and ambitiously experimental structure, it asks big questions about sentience and the nature of humanity. And about what happiness might be."
– 2021 International Booker Prize judges
"Everything I'm looking for in a novel. I was obsessed from the first page to the last. A strange, beautiful, deeply intelligent and provocative investigation into humanity. The Employees is an alarmingly brilliant work of art." 
- Max Porter
'It starts out reading like Philip K.Dick retooled by a McKinsey's team using a malfunctioning Samuel Beckett app. But as the pages quickly turn it soon reads only like itself, something, well, Ravnesque – comically dark, original and poetic.  I had thought it the pandemic novel until I discovered it was first published in 2018. Which makes its strange resonance also a form of prescience'.
- Richard Flanagan, TLS Books of the Year selection
"Few stories today are as sublimely strange and their own thing as Olga Ravn's The Employees. This disorienting, mind-bending expanse recalls as much the poetry of Aase Berg as the workplace fiction of Thomas Ligotti. Something marvelously sui generis for the jaded."
- Jeff VanderMeer
"Beautiful, sinister, gripping. A tantalising puzzle you can never quite solve. All the reviews say that the novel is, ultimately, about what it means to be human. What makes it exceptional, however, is the way it explores the richness and strangeness of being non-human."
– Mark Haddon

"A deeply sensory book, suffused with aroma and alert to tactility... The Employees is not only a disconcertingly quotidian space opera; it's also an audacious satire of corporate language and the late-capitalist workplace, and a winningly abstracted investigation into what it means to be human… This clever, endlessly thought-provoking novel catches something of our recursive search for the nature of consciousness; a question that answers itself, a voice in the darkness, an object moving through space."
The voices of humans and humanoids are almost indistinguishable as they describe the disturbing dreams, imaginary smells, skin complaints and wild thoughts that seem to be provoked by these mysterious things, which hum, or ooze resin, or lay eggs… One humanoid co-worker refers to the parts of the Six-Thousand Ship where the humans are quartered as "a museum, a prison, a brothel … a nursery". There may still be division in Ravn's twenty-second century, but humans and humanoids alike answer to a distant, faceless corporation. If that's a fate worth avoiding, there is still plenty of work for us all to do – TLS

The most striking aspect of this weird, beautiful, and occasionally disgusting novel is not, as its subtitle implies, its portrayal of working life on the spaceship….What The Employees captures best is humanity's ambivalence about life itself, its sticky messes and unappealing functions, the goo that connects us to everything that crawls and mindlessly self-propagates, not to mention that obliterating payoff at the end of it all.
—The New York Review of Books 
'This is more than a clever reframing of sci-fi tropes, although it's that, too; the employees' voices themselves, some of them desperate, some of them meditative, form a touching, alienated chorus, narrating a tragedy that for many will ring eerily true'
– Vulture
"Its art-world origins are instructive, but Ravn's book has a sickly, anxious energy all its own. … Ravn carefully rations plot details … The testimonial format has to do most of the labor of characterization, plot, and suggestive imagery—it's a feat to achieve this in short fragments … In the end, you come away from The Employees with a series of unnerving visual moments in mind,from which something has been excised or obscured, like a migrainous blind spot or scotoma. … Ambiguity is everything."
– Brian Dillon, 4Columns

"A powerful and philosophical sci-fi experiment from a near-distant future, exploring what it means to be human and alive."
– Børsen ★★★★★★

"As beautiful as it gets: Beauty and longing in the infinite universe."
– Berlingske ★★★★★★

"An unsettling, endlessly dizzying work."
– Politiken ★★★★★

"A disquieting, delectable reading experience and one of the best answers for a contemporary novel I have read in a long time: 'Is this problem human? If so, I would like to keep it.'"
– Kristeligt Dagblad ★★★★★★

"Olga Ravn has long since manifested herself as one of the most important and influential writers in Danish contemporary literature. Her new book is a spirited blend of cyborgs, living stones and productivity optimisations. A most thought-provoking, literary sci-fi novel."
– Jyllands-Posten ★★★★

"The Employees is inspired by Personal Development Planning and the way we speak to each other at work. Turns out, the language of streamlining is terrifying."
– Danish Broadcasting Corporation

"Olga Ravn's new novel from the future is a thought-provoking warning letter to society."
– Information
"Samuel Beckett had he written the script for Alien."
– Nicolas Gary, ActuaLitté
"In this science fiction novel, nourished by poetry and symbolism, Olga Ravn shows how life only has meaning through death. An illuminating message at a time when the apostles of transhumanism are trying to circumvent what they see, wrongly, as an end and not a beginning."
– Alice Develey, Le Figaro
Territories:
UK: Lolli Editions, US: New Directions, Albania: Berk; Arabic rights: Athar Publishing; Brazil: Todavia, Canada: Book*Hug, China: Thinkingdom, Croatia: Hena Com, Finland: Kosmos; France: La Peuplade + Editions Pocket, Germany: Marz-Verlag, Hungary: Europa, Italy: Il Saggiatore, Korea: Daram, Lithuania: Rara, Netherlands: Das Mag, Norway: Samlaget, Poland: Driada, Portugal: 2020, Romania: Pandora, Russia: Eksmo, Spain: Anagrama for Spanish and Catalan, Sweden: Ellerstrom, Turkey: Can