The Bone Sparrow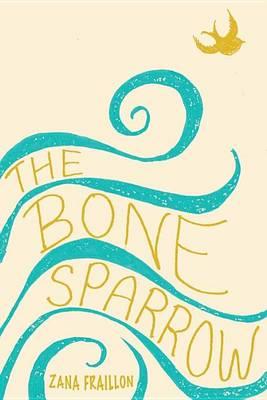 Sometimes, at night, the dirt outside turns into a beautiful ocean. As red as the sun and as deep as the sky. I lie in my bed, Queeny's feet pushing up against my cheek, and listen to the waves lapping at the tent.
Subhi is a refugee. Born in an Australian permanent detention center after his mother fled the violence of a distant homeland, life behind the fences is all he has ever known. But as he grows, his imagination gets bigger too, until it is bursting at the limits of his world. The night sea brings him gifts, the faraway whales sing to him, and the birds tell their stories.
The most vivid story of all, however, is the one that arrives one night in the form of Jimmie, a scruffy, impatient girl who appears from the other side of the wires, and brings a notebook written by the mother she lost. Unable to read it, she relies on Subhi to unravel her own family's love songs and tragedies.
Subhi and Jimmie might both find a way to freedom, as their tales unfold. But not until each of them has been braver than ever before.
In the tradition of Morris Gleitzman and Markus Zusak, Zana Fraillon's The Bone Sparrow is a profoundly moving glimpse of an unacknowledged life, one that is played out time and time again in detention centers and refugee camps across the world. Full of vivid imagery and emotion, this is a funny, heartbreaking and ultimately uplifting hymn to freedom and love.
The Bone Sparrow was Longlisted for The Guardian Children's Fiction Prize 2016.
"Outstanding… This is an important, heartbreaking book, with frequent, unexpected humour, that everyone, whether teenager or adult, should read" Michelle Pauli, Guardian Review
"A special book" – Morris Gleitzman, author of the Once series
"The writing is beautiful and the message of survival and bravery a universal one" – The Bookseller