Like a Sky Inside (Comme un ciel en nous)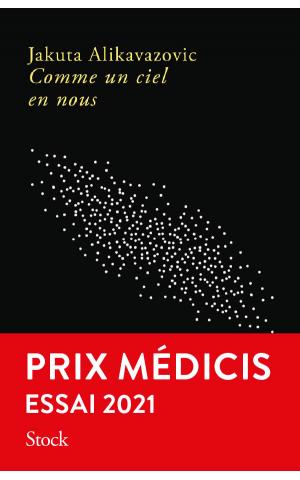 Translated into English by Daniel Levin Becker
WINNER of the Prix Médicis Essai 2021 
Let's go back even further, my father said. It's not even certain that the original purpose of what we call art was to be seen.
In a way, we could go so far as to say that art, what we call art, is made less to be seen than to be stolen.
In March 2020, a young woman spends the night in the Louvre. At home: her nine-month-old son. In her overnight bag: a notebook, a toiletry kit, a duvet, a cube of nougat, and something that shouldn't be there. In her head: memories of the Venus de Milo, of land art and the American road, of romance and travel and immigration and war —and of her father, who after each of their many visits to the Louvre would ask just how she'd go about stealing the Mona Lisa.
An insightful and heartfelt meditation on the possibilities and impossibilities of art, on parenthood and the betrayals of growing up, on foreignness and belonging, and on the secret conversations between our souls and the places that linger in our dreams.
All translation rights are with Editions Stock.
A perfect sculpture of pure thought, the kind of artwork that makes you want to steal it, a generous and joyful book that stitches memory and philosophy and narrative together so elegantly I was completely enthralled.
Catherine Lacey, author of Biography of X and Pew

Jakuta Alikavazovic's sentences, beautifully translated by Daniel Levin Becker, are quicksilver prodigies, many-headed and many-tailed; one experiences them as disturbances and occasions, as corporeal shocks. She is one of the great writers of our time.
Garth Greenwell, author of Cleanness
Like a Sky Inside is about a night spent at the Louvre, but really it is about art and enchantment, exile and longing. Above all, it is a devastatingly tender portrait of Alikavazovic's relationship with her father, written with unsurpassed brio, intelligence, and empathy.
Katie Kitamura, author of Intimacies and A Separation
Like a Sky Inside is that rare, crystalline short book that manages to be about a lot of different things — art, immigration and xenophobia, parenthood, daughterhood, self-invention — while seeming only to be about one (highly singular) evening in the writer's life. It is lucid, meditative, pointed, and so beautifully written that reading it provides precious moments of a kind of generative peace. A gift of a book.
Lydia Kiesling, author of Mobility and The Golden State
Jakuta Alikavazovic charges her prose with tension and truth, offering the companionship of her generous, seeking mind while also daring to turn the lights off — to leave us for brief moments alone in the dark — for the purpose of drawing closer to the absences structuring this extraordinary portrait of the writer as a daughter, as a mother, as a second-generation emigrant, as a patient sifter of the most formative stories, her powers of transgression and self-preservation stashed in a shoulder bag. Like a Sky Inside is deeply compelling, secret and surprising. I loved it.
Kate Briggs, author of The Long Form and This Little Art
Jakuta Alikavazovic's sentences and charged silences bring individual and collective histories into unpredictable, illuminating relation. She writes with lyric precision while making the limits of language felt. We need all of her books in English.
Ben Lerner, author of The Topeka School and Leaving the Atocha Station
A marvel. I read it in one sitting: some books possess this kind of perfect charm that grips you and makes you whole.
Yannick Haenel, Charlie Hebdo
One of the most exciting writers of her generation. Like all of her books, Like a Sky Inside is a little miracle of style, imagination, and intelligence. And yet, in this search for a father, she dares to do the hardest thing of all: speak of love. That personal quest is intertwined with a powerful reflection on the visible and on the nature of art. If beauty, like love, opens a sky inside of us, here is a heavenly book.
Sophie Pujas, Le Point
Her father was Bosnian, exiled by war. The Louvre, he said, was "the first French city where I felt at home." To his daughter, born in Paris, he made a routine of asking: "And you, how would you go about stealing the Mona Lisa?" It seems to me she no longer needs a ruse to answer. Jakuta Alikavazovic slept in the Louvre, ate a snack there, and wrote this book. It is proof, in its beauty and its elegance, that the Mona Lisa now belongs to her as well.
Colombe Schneck, Madame Figaro
A text of marvelous intricacy and melancholic fantasy. A precise and surprising look at the world, its sentences ringing with originality and irony.
Raphaëlle Leyris, Le Monde des Livres
Alikavazovic has devised, with an impressive sense of finesse, a shimmering story in which she weaves a mending thread through a swollen and fragmented relationship—because the past, as she says, is also an elsewhere, its horizon constantly expanding.
Thierry Clermont, Le Figaro
An intimate, resonant story, shot through with solemnity, captivating in its elegant and enchanting prose. A book that pushes us to look past the obvious.
Geneviève Simon, La Libre Belgique
Like a Sky Inside is the story of an encounter: that of a man with the great museum of his adoptive homeland, that of a little girl with the works kept there, that of a woman with her father and with herself. A sensitive, affecting read that highlights the evocative power of places and works of art.
D. F.-R., Grande Galerie
The genealogical paper chase leads her into her own heart, a place full of imagination and intelligence. Sometimes it takes years to understand the real reason behind a feeling, she writes. But all she needed was a sleepless night in a museum to show her true self, in this playful and uncompromising book.
Marine Landrot, Télérama
Never has this novelist been so close to her innermost truth. Of her life, of course, but also of her writing—for, in the work of this major stylist, one sustains the other. What mastery, what splendid finesse! Jakuta Alikavazovic composes a diatonic symphony of memory, transported by the beauty that surrounds her and, bit by bit, suffuses her. In this there is something like an enigma resolved.
Olivier Mony, Livres-Hebdo
In Jakuta Alikavazovic's words, the world is by turns cruel, absurd, and sublime. Her talent, that of a novelist, electrifies the "sky inside of us," striking like a bolt of lightning.
Élise Lepine, Le Journal du Dimanche
Her most poignant, vibrant writing yet. Pages you will savor and never forget.
Alexandre Fillon, Sud Ouest
Publisher:
Editions Stock
Territories:
Germany: Hanser; Spain: Muñeca infinita; US: Fern