Drive Your Plow Over the Bones of the Dead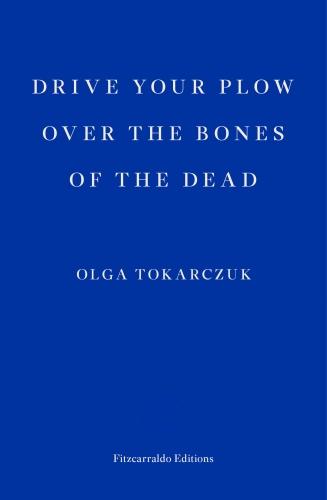 Translated into English by Antonia Lloyd-Jones
In a remote Polish village, Janina Duszejko, an eccentric woman in her sixties, recounts the events surrounding the disappearance of her two dogs. She is reclusive, preferring the company of animals to people; she's unconventional, believing in the stars; and she is fond of the poetry of William Blake, from whose work the title of the book is taken.
When members of a local hunting club are found murdered, Duszejko becomes involved. By no means a conventional crime story, this existential thriller by 'one of Europe's major humanist writers' offers thought-provoking ideas on our perceptions of madness, injustice against marginalized people, animal rights, the hypocrisy of traditional religion, belief in predestination - and caused a genuine political uproar in Tokarczuk's native Poland.
"Part thriller and part fairytale . . . It's a magnificent book, maybe even better than Tokarczuk's 2018 novel Flights."—Jezebel
"A winding, imaginative, genre-defying story. Part murder mystery, part fairy tale, Drive Your Plow is a thrilling philosophical examination of the ways in which some living creatures are privileged above others."—TIME

"A dark and fun mystery, a feminist comedy, a primer on existentialism, and a weirdly perfect summer read."—LitHub
"[S]himmering with subversive brilliance . . . . this is not your conventional crime story—for Tokarczuk is not your conventional writer. Through her extraordinary talent and intellect, and her 'thinking novels,' she ponders and tackles larger ecological and political issues. The stakes are always high; Tokarczuk repeatedly rises to the occasion and raises a call to arms."—HuffPost
"Tokarczuk's novel succeeds as both a suspenseful murder mystery and a powerful and profound meditation on human existence and how a life fits into the world around it. Novels this thrilling don't come along very often."
– Publisher's Weekly, STARRED Review
"An astonishing amalgam of thriller, comedy and political treatise, written by a woman who combines an extraordinary intellect with an anarchic sensibility." – The Guardian
Territories:
Norway (Gyldendal Norsk); Brazil (Todavia Libros); Portugal (PRH); Germany (Kampa Verlag); France (Les Editions Noir sur Blanc); China (Zhejiang Literature and Art); Korea (Minumsa); Hungary (L'Harmattan); Russia (Exmo); Turkey (Timas Yayinlari); The Netherlands (De Geus); Denmark (Gyldendal); Italy (Bompiani); Sweden (Albert Bonniers); Israel (Achuzat Bayit); Lithuania (Lithuanian Writers' Union); Slovenia (Cankarjeva Zalozba); Malayalam (Green Books); Finland (Otava); Estonia (Hendrick Lindepuu); Croatia (Fraktura); Bulgaria (ICU); Greece (Kastaniotis Editions); Arabic (Dar Al Tanweer); Vietnam (Tre); Japan (Hakusuisha); Slovakia (Premedia); Macedonia (Antolog); Basque (Erkarlanean); Iceland (Bjartur Verold); Taiwan (Locus); Romania (Storyside AB).