Browning: A Private Life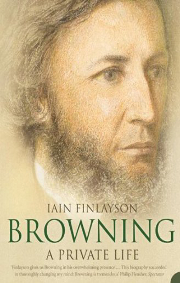 A major new biography of the most modern and the most underrated of English literature's great Victorians.
Henry James called Robert Browning (1812–89) 'a tremendous and incomparable modern', and the immediacy and colloquial energy of his poetry has ensured its enduring appeal. This biography sets out to do the same for his life, animating the stereotypes (romantic hero, poetic exile, eminent man of letters) that have left him neglected by modern biographers. He has been seen primarily as one half of that romantic pair, the Brownings; and while the courtship, elopement and marriage of Elizabeth Barrett and Robert Browning remains a perennially seductive subject (and one Finlayson evokes vividly, quoting extensively from their daily letters and contemporary accounts) there is far more to Browning than that.
Chronological in structure, this book is divided into three sections which deal with his life's major themes: adolescence and ambition, marriage and money, paternity and poetry. 'Browning' explores the many experiences that inspired his writing, his education and passions, his relationships with family and friends, his continual financial struggles and revulsion at being seen as a fortune-hunter, his most unVictorian approach to marriage (sexual equality, his helping wean Elizabeth off morphine and nursing her through various illnesses), fatherhood and fame (inviting a leading member of the Browning Society to watch him burn a trunk of personal letters): all of which contribute to a fascinating portrait of a highly unconventional Victorian. At once witty and moving, this critical biography will revolutionise perceptions of the poet – and of the man.