A Rising Man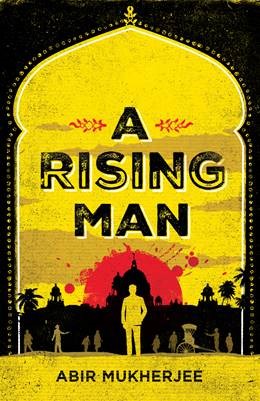 Calcutta 1919. When a senior British official is found murdered in an alley with a note warning the British to quit India, stuffed in his mouth, Captain Sam Wyndham, a veteran of the Great War and ex-Scotland Yard detective, is ordered to investigate. Sent to assist Wyndham is Surendranath 'Surrender-not' Banerjee, a young, idealistic and brilliant Indian detective, suffering his very own crisis of loyalty. Treading a fine line between doing their duty and maintaining their own moral integrity, Wydham and Banerjee's investigations into the murder lead them on a journey of political intrigue into the dark underbelly of the British Raj.
A Rising Man is the winner of both the Telegraph Harvill Secker Crime Writing Competition 2014 and the CWA Historical Dagger 2017 award. It is also one of Waterstones' Paperbacks of the Year and was shortlisted for the HWA Debut Crown prize, the Gold Dagger award and the Dead Good Reader Awards in the 'Cat Amongst the Pigeons Award for Most Exceptional Debut' category.
Praise for A Rising Man:
Shortlisted for MWA Edgar Allen Poe Award 2018
Shortlisted for CWA Historical and Gold Dagger Awards 2017
Shortlisted for the Dead Good Reader Awards 2017 in the 'Cat Amongst the Pigeons Award for Most Exceptional Debut' category.
Longlisted for HWA Debut Crown 2017
Waterstones Paperback of the Year 2017
Financial Times Best Crime Fiction Novel of 2017
NY Times Best New Crime Fiction – May 2017
'One way to deliver a message in the unsettled political climate of 1919 Calcutta is to stuff it in the mouth of a murdered man. "English blood will run in the streets," warns the note in Abir Mukherjee's enthralling debut novel' Marilyn Stasio, NY Times
'A rich seam of humour is found in A Rising Man by Abir Mukherjee where brilliant interplay between characters alongside a cleverly constructed plot peppered with plenty of red herrings convincingly brings Colonial Calcutta to life. A beautifully crafted and assured debut' CWA
'Delightful and splendidly-written whodunnit…' HWA
'Some books you savour long after you have read them because of the way they connect with you. For me last year's breakout crime hit A Rising Man was one of those books. I love India-based fiction, and in this, the second in the series, Mukherjee once again evokes 1920s India in all its humid glory...What distinguishes these books is the quality of the writing and the dry humour' Vasseem Khan
'As exuberant and mesmerising as its predecessor' Barry Forshaw, The Financial Times
'[An] enthralling debut novel' The New York Times
'An exceptionally good, and original novel. The whole cast.. is finely yet lightly drawn. Roll on book two' CJ Sansom
'A thought-provoking roller-coaster' Ian Rankin, Guardian Best Books of the Summer
'A vivid sense of history and locale' Financial Times Best Books of 2016
'A very good read, rich in texture' Val McDermid, My Six Best Reads, Daily Express
'A new star shines in the heat and dust. An intoxicating debut… Utterly captivating' Daily Mail
'A Rising Man is an assured novel: well researched and vivid… Delivered with verve and some appealingly wry humour' Guardian
'[A] splendid debut...and his hero, Captain Sam Wyndham, is a winning creation' The Times, Crime Book of the Month
'A Rising Man is a cracking debut novel' Daily Express
'[A] terrific first novel...Mukherjee's descriptions of Calcutta under the Raj are vivid, while Wyndham's position as a newcomer with fresh eyes works brilliantly' Sunday Times, Crime Book of the Month
'A joy to read' Susan Hill
'A lip-smacking and highly entertaining mystery, set in a Calcutta so convincingly evoked that readers will find sweat bursting from their foreheads' Daily Telegraph
'Witty and sharply written, this is an evocative portrait of a multifaceted Calcutta.' Literary Review
'A thoroughly engaging new detective... A Rising Man kept me awake, racing to the finish… This is a Calcutta of smart cantonments and deep corruption, vividly brought to life, the politics and the people skewered with sharp dialogue and a brilliant sense of period' Jason Goodwin
'Evocative, intricate, beautifully written. A must read.' Vaseem Khan
'Colourful, eloquent, witty, unputdownable. And here's the best bit: this is the first in an unmissable new series that is clearly destined to join the pantheon of intelligent historical crime fiction. Jump on the wagon now' Neel Mukherjee, author of Booker shortlisted The Lives of Others
'A historical thriller of the highest calibre; evocative and pleasingly complex, shot through with the driest of wit, it marks Mukherjee out as an author of great style and ambition' Eva Dolan
'Mukherjee's outstanding debut and series launch combines a cleverly constructed whodunit with an unusual locale—Calcutta in 1919—portrayed with convincing detail.. The nuanced relationship between Wyndham and his Indian assistant, a sergeant known as Surrender-not Banerjee because the English can't pronounce his first name correctly, adds even more depth.' Publishers Weekly (starred review)
A Rising Man was published by Vintage in 2016. The sequel, A Necessary Evil followed in 2017, with a third in 2018, all published by Vintage. Film rights have been optioned by Big Talk.